On this page, you will find information about the District of Columbia real estate projects under the Office of the Deputy Mayor for Planning and Economic Development (DMPED).
To view all real estate projects, visit the DMPED Real Estate Projects Pipeline. Download and connect with the same data using Open Data DC's APIs at Real Estate Portfolio at DMPED.

Major Projects
Capitol Crossing
DC United Soccer Stadium
Hill East District Redevelopment
New Entertainment and Sports Arena (Ward 8)
McMillan Sand Filtration Site (Ward 5)
New Communities Initiative (NCI)
Skyland Town Center
St. Elizabeths East Campus Redevelopment (Ward 8)
The Wharf (Southwest Waterfront) Phase I
Walter Reed Army Medical Center
Active Projects
Additional Real Estate Project Resources
Please find below links to additional information related to DMPED's real estate projects.
Our RFP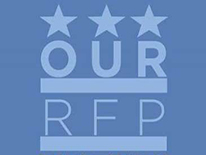 "Our RFP" is a Mayoral and DMPED initiative that will incorporate community engagement early in the RFP process. Early engagement with District residents will ensure that the public's perspective and priorities are understood in conjunction with the District's goals when crafting and issuing the RFP for a District-owned parcel.
The process is intended to provide transparency throughout the RFP process as well as accountability for delivering public benefits through the Our RFP Process.