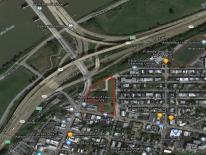 1234 Good Hope Road SE
The Government of the District of Columbia (the "District"), through the Office of the Deputy Mayor for Planning and Economic Development ("DMPED"), released a Request for Proposals on September 30, 2021, submission deadline was February 1, 2022, for the redevelopment of District-owned land consisting of Lots 54, 56, 858, 859, 860, 862, and a portion of 865 and 866 in Square 5601 located at or adjacent to 1234 Good Hope Road, SE (the "Development Parcel").
The Development Parcel is approximately 84,723 square feet in size and is currently vacant and unimproved land. It is within walking distance to the Anacostia Metro station and multiple bus stops. The planned 11th Street Bridge Park will provide a direct pedestrian connection across the Anacostia River to The Washington Navy Yard and adjacent Southeast Federal Center. The Development Parcel is also adjacent to the interchange of MLK, Jr. Avenue and I-295, providing convenient vehicular highway access both north and south and access to Capitol Hill and downtown across the 11th Street bridge.
The Development Parcel is zoned PDR-1, MU-7, and R-3 which permits a variety of commercial and residential uses. Redevelopment of the site may incorporate a mix of uses including retail, commercial office, and multi-family and single-family housing. Given robust population growth and construction activity in the Southeast area, the site is a prime candidate for mixed use development built in conjunction with the new MLK Gateway commercial development across Good Hope Road in the Anacostia Historic District. Its location near transit and its proximity to Capitol Hill and the Southeast Federal Enter make it an attractive site prime for new investment.
Questions? Mark Corneal at [email protected] or 202-538-1282.
Request for Proposals (RFP) - 1234 Good Hope Parcels
Release Date: September 30, 2021
Submission Deadline: February 1, 2022
1234 Good Hope Parcels RFP Amendment #1 Extension
1234 Good Hope Parcels RFP Presentations
EXTENSION OF TIME TO COMMENT ON DISPOSITION- The deadline to submit comments for the proposed uses of the Property is extended until Friday, October 21, 2022.