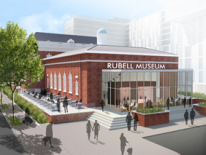 The 2.7ac former Randall School site, located at 65 I St SW, comprises the Rubell Museum DC and Gallery 64 – 492 apartments and townhomes (The apartments are due for release Q1, 2023).
Randall School, originally known as the Francis L. Cardozo Elementary School, opened in 1906, to serve DC's growing African American community. In 1927, the school was renamed the Randall Junior High School and in the 1950's, hosted one of its most notable alumni - the musical legend Marvin Gaye before closing as a school in 1982. The school's buildings were then repurposed and operated for almost 20 years as a temporary homeless shelter until the District vacated the property in 2004 and formally declared the site surplus.
In 2006, the District sold the site to the Corcoran Gallery of Art. The historic school building's future then entered a period of uncertainty, following several financial setbacks for the Corcoran Gallery. In 2018/19, Mayor Bowser, DMPED, the Rubell Family, and Lowe came together and partnered to preserve the historic Randall School and deliver new housing - meeting the needs of the southwest community. In July 2019, Lowe formally acquired the former school and commenced work on the $220m development.
Rubell Museum DC. At the heart of the development is the restoration of the historic school – preserving an important landmark and repurposing it again as a public resource. The museum opened to the public in October 2022 and provides free admission to DC residents together with unique opportunities for Ward 6 residents, run through the museum's programming, to work in the arts and/or engage in dialogue with the most current artists of our times. The main building, together with the east wing, have been transformed into a 32,000 sf world-class contemporary art museum displaying rotating works from the renowned Rubell Family's collection across several distinct exhibition galleries complimented by regular events held in the flexible activation space. In time, there are plans to use the ground floor of the 18,000 sf west wing as a café / restaurant – offering the museum's visitors, residents of Gallery 64 and the public, indoor and outdoor court-yard dining. https://rubellmuseum.org/dc
Gallery 64. Adjacent to the museum and located across the shared courtyard, is Lowe's 500,000 sf, Gallery 64. Gallery 64 is an imposing modern, 12-story building comprising 492 modern apartments and town homes, 98 of which are designated as affordable units (94 units @ 80% AMI and 4 units @ 60% AMI) - specifically set aside for existing Ward 6 residents. Lowe is scheduled to start a phased release of the market rate and affordable apartments in Q1, 2023. https://www.gallery64dc.com/