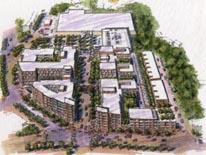 The Skyland project is geared to promote neighborhood revitalization and economic growth on an 18-acre site located in Ward 7 at the intersections of Good Hope Road, Naylor Road, and Alabama Ave SE. While the Skyland Shopping Center is still active, a considerable portion of the shopping center is vacant and will start to be demolished in the upcoming months. The potential of this site is significant, due to its prominent location, the considerable land area available for redevelopment, and the resources and public benefits the project would provide to the neighborhood.
Plans for Skyland call for more than 315,000 square feet of retail space-- a combination of high-quality, large format national-brand retailers and neighborhood serving shops and restaurants. The project will also include 468 units of housing.
There are several outstanding legal issues associated with the project that have complicated the development process; however, in recent months, the District has made significant strides in bringing all buy one case to resolution.

The development team received a final approval of its Planned Unit Development (PUD) application to the Zoning Commission in the summer of 2010. The District and development team are negotiating the business terms of their agreement.
Surplus and Disposition