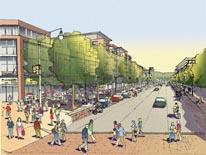 Hill East District Waterfront, formerly known as Reservation 13, is comprised of 67 acres between the eastern edge of the Capitol Hill neighborhood and the western shore of the Anacostia River. It hosted the former National Capital Medical Center campus, formerly known as DC General Hospital, now closed, the Central Detention Facility/DC Jail, and other buildings and parking lots. None of these uses made the waterfront accessible to the adjoining neighborhood. The District of Columbia plans to redevelop 50 acres of Hill East to be transformed into a vibrant, mixed-use urban waterfront community in accordance with the Hill East Master Plan approved by the DC Council in October 2002. In April 2009, the DC Zoning Commission approved the new-form based zoning codes specific to the future Hill East development. Once fully built, this new waterfront community will connect the surrounding Hill East neighborhood to the Anacostia waterfront via tree-lined public streets, recreational trails, and accessible waterfront parklands.
Hill East District Redevelopment (Phase I) - Parcels F-1 and G-1
Proceeding with the first of many phases of redevelopment will allow the overall master plan vision to move forward while taking an approach adapted to today's economic climate. ARequest for Expressions of Interest (RFEI) for Parcels F-1 and G-1 of the Hill East District Redevelopment (Phase I) was released on October 4, 2012.
The District received one proposal from a development team comprised of Donatelli Development and Blue Skye Development. On April 24, 2013, a community meeting was held where the development team presented its proposal. On September 23, 2013, the District awared the exclusive right to negotiation a Land Disposition and Development Agreement (LDDA) for Phase 1 to the Dontalli and Blue Skye team based on the team's proposal. The District and developer executed the LDDA on March 2, 2015.
Hill East Master Plan
Proposed Development Plan by Donatelli Development and Blue Skye Development
Parcels F1 and G1 Proposed Development Plan and Rendering (8-27-2013)
A Public Surplus Meeting was held on October 29, 2014. View the summary below.
Hill East District Redevelopment - Public Surplus Meeting Summary - October 29, 2014

Hill East District Redevelopment - Public Surplus Meeting Transcript - October 29, 2014
Surplus and Disposition