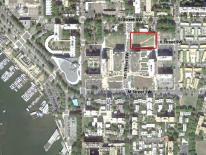 Waterfront Station is a 59,044 square foot vacant parcel on 4th Street SW in Ward 6, one block north of the Waterfront Metro station entrance. This property was formerly occupied by the Waterside Mall and offices of the Environmental Protection Agency. The Zoning Commission approved a First-Stage Planned Unit Development (PUD) for the site in 2007. That order was extended until April 15, 2017 under the Zoning Commission. A second stage PUD was approved by the Zoning Commission on April 8, 2019 and the Commission's Final Order for the PUD was issued August 16, 2019.
The D.C. Council unanimously approved Waterfront Station II for surplus and disposition on April 10, 2018. DMPED and the development team, led by Hoffman & Associates, executed a land disposition and development agreement ("LDDA") on December 13, 2018 and entered into a 99 year ground lease on April 9, 2020. The developer closed on financing for this project on October 8, 2021.
Construction began in June 2021 and has progressed steadily since. On October 14, 2022, the developer anticipates "topping out" of the new building under construction which means construction will have achieved its maximum height.
Substantial completion is projected to occur in February 2024. Upon completion, Waterfront Station II will be a mixed use building comprised of 415,000 square feet above ground with retail on the ground floor and 449 apartments above. The apartment mix includes 136 affordable units with half of those at 30% AMI and half at 50% AMI. In addition, there are spaces reserved for a diner, school and theater.
For renderings and more details, visit the project websites for the developer and architect at:
News:
Here's the winner in the competition to develop Waterfront Station II
Who will develop the last of the Waterfront Station parcels? ANC makes its choice
Mayor Bowser Funds 10 Projects to Build and Preserve 940 Affordable Homes
Questions? Contact Daniel Lyons at [email protected] or 202-807-0337