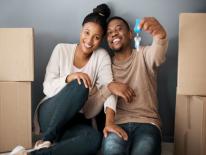 Black Homeownership Strike Force
In Washington, D.C, the homeownership rate for Black households is 34 percent compared to nearly 49 percent for White households based on US Census 2019 American Community Survey. Additionally, according to a Urban Institute analysis, a first-time homebuyer with the average income of a first-time DC Black household could afford just 8.4 percent of homes in the District sold between 2016 and 2020, compared to a buyer with the average income of a White household, which could afford 71 percent of these homes.. Since then, the residential real estate market has experienced a sharp rise in home values, making it increasingly difficult for native Washingtonians to afford and be competitive in purchasing homes.
To address the racial disparities in homeownership and household wealth in the District, Mayor Bowser created a Black Homeownership Strike Force. The Strike Force will be charged with developing recommendations to address the following:
Increase access to homeownership for longtime Black residents of the District of Columbia; and
Support wealth-building through homeownership through, for example, programs that enable homeowners to maintain their homes, increase their property value, and maintain affordability of their home in an increasingly expensive market.
The Strike Force is made up of government and public experts in housing and financial counseling, lending/underwriting, real estate development and services, as well as representatives from the faith-based, senior, immigrant, and LGBTQ+ communities and advocates and representatives that address social and racial equity.
The charge also includes providing recommendations for uses of a $10 million Black Homeownership Fund proposed in Mayor Bowser's Fair Shot budget and creating a goal for increasing the number of Black homeowners in DC by 2030. The latter will be informed by the work of the National Black Homeownership Collaborative, which has identified seven steps to increase Black homeownership by 3 million net new homeowners nationally by 2030, an increase of more than 10 percentage points in the Black homeownership rate nationally: 3by30.org. The Strike Force's recommendations are due in October 2022.
Mayor Bowser announced the Strike Force will be co-chaired by Anita Cozart, Interim Director of the Office of Planning, and Rev. Graylan Scott Hagler, Senior Minister of Plymouth Congregational United Church of Christ. In addition, the following members will also serve on the Strike Force:
Public Representatives:
Sheila Alexander-Reid, Senior Vice President of Business Development at Bias Sync
S. Kathryn Allen, President of Answer Title
Sasha Angus, President and CEO of Manna Inc.
Dedrick Asante-Muhammad, Chief of Membership, Policy and Equity at National Community Reinvestment Coalition
Harrison Beacher, President of the Greater Capital Area Association of Realtors (GCAAR)
Ellis Carr, President and CEO of Capital Impact Partners and CDC Small Business Finance
Sheila Cross Reid, Avanti Real Estate
Ayana Douglas, Realtor at Compass
Anne Ford, Community Member and Neighborhood Legal Services
Rev. Graylan Scott Hagler, Senior Minister of Plymouth Congregational United Church of Christ
Babatunde Oloyede, President and CEO of Marshall Heights Community Development Corporation
Joann Savage, Attorney at the Legal Counsel of the Elderly/AARP
Susanne Slater, Co-President and CEO of Habitat for Humanity
Harvey Yancey, Principal at H2 Design Build

District of Columbia Government Representatives
Anita Bonds, Chairperson, Committee on Housing and Executive Administration, DC Council
Rev. Thomas Bowen, Director of the Mayor's Offices of African American and Religious Affairs
Anita Cozart, Interim Director of the Office of Planning
Brenda Donald, Executive Director of the District of Columbia Housing Authority
Chris Donald, Executive Director of the District of Columbia Housing Finance Agency
Amber Hewitt, Director of the Office of Racial Equity
Drew Hubbard, Interim Director of the Department of Housing and Community Development
Karima Woods, Commissioner of the Department of Insurances, Securities and Banking
Mayor Bowser has tasked DMPED with coordinating the work of the Strike Force and preparing members with relevant data and research. It will be staffed by DMPED and supported by researchers and analysts at Urban Institute and Howard University, with facilitation and engagement support provided by Justice Sustainability Associates. In addition, plans are underway to engage residents who have used District homeownership programs to purchase their first home but also those who have sought to buy a home and have yet to achieve this goal. Opportunities under consideration include outlets to share their stories, experiences, and ideas and feedback regarding District programs and other related challenges to achieving homeownership in the District. Additional details regarding public engagement will be shared in the coming weeks.
Questions can be emailed to [email protected]. To find existing resources for homeownership, visit frontdoor.dc.gov.

View the Black Homeownership Strike Force Report - October 2022

In February 2023, Mayor Bowser also announced a new Black Homeownership Marketing Campaign, and a Request for Proposals for the company managing the campaign. Experienced firms can submit a proposal for developing a strategic advertising campaign to market the District's homebuying programs. The goal is to help more Black residents understand that homeownership is within reach and that the District has tools to help residents achieve their homeownership goals.

Request for Proposal No. DCEB-2023-R-0004
Black Homeownership Marketing Campaign
Issue Date: February 27, 2023
Submission Deadline: April 11, 2023

Press Release: Mayor Bowser Launches Black Homeownership Strike Force to Combat Racial Wealth Gap
Mayor Bowser Launches Black Homeownership Strike Force to Combat Racial Weath Gap, 6/9/2022 (recording)

Black Homeownership Strike Force Meeting
10:00 AM - 12:00 PM