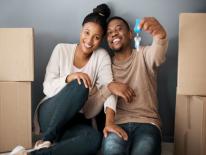 Black Homeownership Strike Force
In Washington, D.C, the homeownership rate for Black households is 34 percent compared to nearly 49 percent for White households based on US Census 2019 American Community Survey. Additionally, according to a Urban Institute analysis, a first-time homebuyer with the average income of a first-time DC Black household could afford just 8.4 percent of homes in the District sold between 2016 and 2020, compared to a buyer with the average income of a White household, which could afford 71 percent of these homes.. Since then, the residential real estate market has experienced a sharp rise in home values, making it increasingly difficult for native Washingtonians to afford and be competitive in purchasing homes.
To address the racial disparities in homeownership and household wealth in the District, Mayor Bowser will create a Black Homeownership Strike Force. The Strike Force will be charged with developing recommendations to address the following:
Increase access to homeownership for longtime Black residents of the District of Columbia; and
Support wealth-building through homeownership through, for example, programs that enable homeowners to maintain their homes, increase their property value, and maintain affordability of their home in an increasingly expensive market.
The Strike Force will convene in June 2022 and be comprised of stakeholders in the housing, finance, legal, and real estate industries as well as community representatives that can lend their perspective and experience regarding the challenges and opportunities available in developing recommendations that can meet the goal of the Strike Force. More details will be announced in the coming months.
If you would like to provide feedback or suggestions for the Black Homeownership Strike Force to consider, please fill out the Black Homeownership Feedback Form. Questions can be emailed to [email protected]. To find existing resources for homeownership, visit frontdoor.dc.gov.