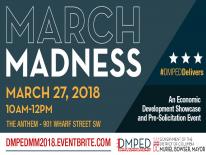 Mayor Muriel Bowser and Deputy Mayor Brian Kenner hosted the Fourth Annual March Madness on March 27 to reveal projects soon to be available to the District's development community. Thank you for attending!
To view the presentation from the March 27 event, follow this link.

DMPED announced four projects at the 2018 March Madness.
St Elizabeths - Parcel 15 will serve as the gateway to this mixed-use, transit-oriented and entertainment-focused community. Adjacent to the Congress Heights Metro Station, the Site comprises just over four acres and can accommodate new construction of up to 374,000 SF. While zoning requires some residential use on Parcel 15, the District envisions it as appropriate for additional Class A office use with ground floor retail, open green space, and one or more levels of underground parking.
2 Patterson Street NE is a surface parking lot located near the corner of North Capitol Street NE and New York Avenue NE. This 42,000 SF site is zoned D-5, which provides opportunities for redevelopment uses including residential, retail, hotel, and office.
Eden Place Phase 2 is located in the eastern portion of the Deanwood neighborhood of Ward 7. It is zoned MU-4, which allows moderate-density mixed-used development. This site is about 18,000 SF and currently unimproved. Eden Place Phase 1 was completed in 2017 and delivered 29 affordable townhomes.
Finally, the Howard Road Property is an exciting opportunity to create a transit-oriented development in the vibrant neighborhood of Anacostia. This 27,000 SF vacant site is zoned RA-1, located across from the Anacostia Metro Station, and is very close to the active Martin Luther King Jr Avenue corridor.
DMPED encourages respondents to think creatively about how teams can maximize Certified Business Enterprise (CBE) participation, particularly resident-owned CBEs.
The deadlines for submissions are as follows:
St. Elizabeths: due July 27
2 Patterson: due September 7
Eden Place II: due October 12
Howard Road: due October 10
To read about additional projects announced at March Madness from other District agencies, follow this link.