Click here to complete our DC Economic Strategy Input Form
DMPED is updating Washington, DC's economic development strategy to guide economic development efforts for the next five years. The new strategy will replace DC's current Economic Strategy, which expires in 2022. See below for more details.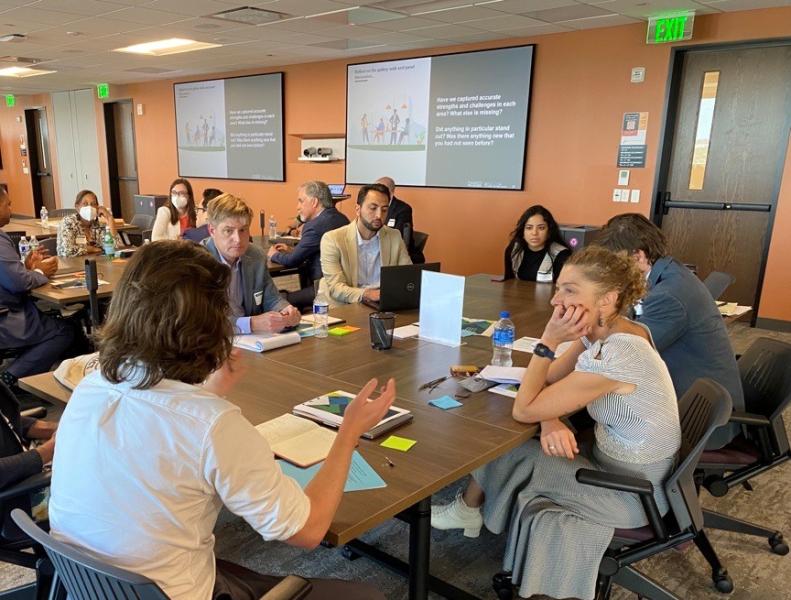 The new strategy will focus on how economic development efforts can drive tax revenue, resident economic mobility, and business vitality and competitiveness, taking into account the enduring effects of the pandemic. It will establish new goals, metrics, and plans for action and build on recent work, including the District's Comprehensive Plan and the Mobility Action Plan, a new framework for resident mobility that visualizes how DC residents might take advantage of District housing, financial well-being, and workforce programs to reach their personal and financial goals. Strategy development will also be informed by related efforts currently in progress, including the Build Back Better Infrastructure Task Force and Tax Revision Commission. The final plan will be released in early 2023.
Ultimately, the plan will serve as the District's Comprehensive Economic Development Strategy (CEDS), which will be submitted to the U.S. Economic Development Administration. Having an active CEDS enables nonprofits, universities and other entities located within the District to apply for EDA grants and other resources.
Residents, community leaders, and business stakeholders are encouraged to provide their perspective by completing our DC Economic Strategy Input Form.This webpage will be periodically updated with progress and other opportunities for engagement. If you want to get in touch with the Economic Strategy team, email us at [email protected].
Economic Strategy Engagement

2022 Economic Strategy Kickoff Session
In July 2022, DMPED convened community, business, and research representatives, along with District government officials, to kick off the process for updating Washington DC's economic development strategy. The session included conversations among participants, a panel discussion with diverse perspectives, and an interactive data walk on the strengths of DC's economy as well as challenges facing its continued prosperity. This discussion represented the beginning of the external engagement process, with opportunities for broader engagement over the summer and fall.

About the 2017 Economic Strategy
Released in 2017, DC's current economic strategy set two overarching goals – to increase private sector GDP to $100 billion and bring unemployment levels below 10% across all wards,races, and educational attainment levels. Despite the onset of the COVID-19 pandemic three years into the strategy, private sector GDP reached $105 billion in 2021, exceeding DC's goal, and 93 percent of the recommended initiatives (all but 3 of 43) have been completed. Unemployment across the three dimensions was trending downwards prior to the pandemic, but there is still work to do to address geographic, racial, and socioeconomic disparities.
View DC's 2017 Economic Strategy for more information. A final progress report of the 2017 initiatives and indicators will be available by the end of the calendar year.