Housing Stabilization Grants
Mayor Muriel Bowser and the Deputy Mayor for Planning and Economic Development (DMPED) are investing $12 million in FY22 to provide support for the District's portfolio of affordable and small housing providers through the Housing Stabilization Grants. The grants cover rent arrears for property owners who have been unable to access funding for renters through prior rental assistance efforts.
The Housing Stabilization Grants program follows the release of a similar program in December 2020 and will target affordable housing providers in the District's portfolio of income-restricted affordable housing projects, including those financed by the Housing Production Trust Fund, Low-Income Housing Tax Credits, and other local and federal affordable housing funds. The program will also target small housing providers with 20 units or less in their portfolio. The program parameters are listed below.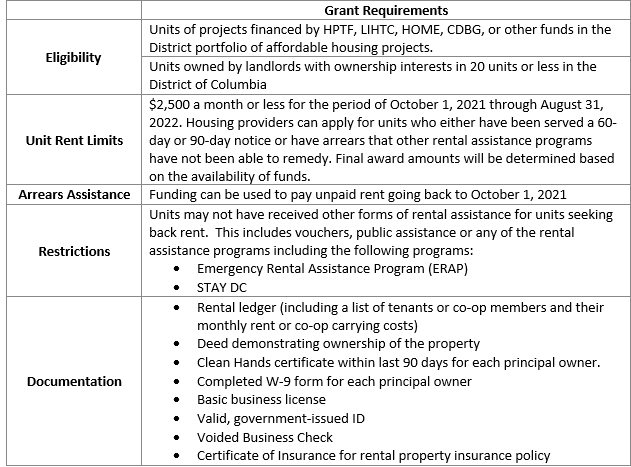 As a condition of the funds, the housing providers will have to absolve the tenants of arrears for this period, including fees, penalties, and interest accrued during the period of October 1, 2021 through August 31, 2022. Applications will open on September 12. They will be assessed on a rolling basis and will close on October 21, 2022 at 12:00PM.
City First Enterprises is managing the applications for the Housing Stabilization Grants and hosted two webinars to help property owners prepare for the application process.
View here Housing Stabilization Grants Webinar .Passcode: hEPs4a.&
Property owners interested in applying can access the application here: Housing Stabilization Grant application
"City First Enterprises is using a grants management platform called Submittable. When applying for this grant, you will need to create a Submittable account with a username and password."
For questions or assistance regarding this grant program or application, please email [email protected].
For any technical/IT questions, please reach out to Submittable, the grants management platform, for assistance. Submittable's help page can be accessed here: https://www.submittable.com/help/submitter/
Tenants in need of assistance can go to the Department of Human Services' Emergency Rental Assistance Program.
Additional FAQs can be found here.