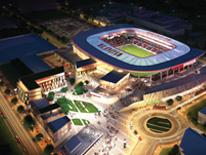 On December 30, 2014, the DC Council formally approved the District of Columbia Soccer Stadium Development Act of 2014, which paved the way for a new state-of-the art soccer stadium in the Buzzard Point area of Ward 6.
On June 30, 2015, the DC Council approved the Amended and Restated Development Agreement with DC United, Amended and Restated Ground Lease and Purchase and Sale Agreement with Rollingwood Real Estate, LLC (Mark Ein), Super Salvage, Inc. (Super Salvage), and Potomac Electric Power Company (Pepco).
On September 30, 2015, the District filed for eminent domain to acquire site control at Buzzard Point in preparation for construction of a new soccer stadium.
On April 25, 2016, the District and D.C. United joined for an infrastructure groundbreaking in preparation for the new soccer stadium at Buzzard Point.
The 20,000-seat facility opened its gates prior to the 2018 season.