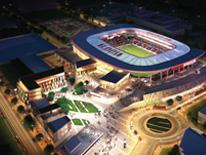 Amended and Restated Development Agreement
Under the terms of the development agreement, the District will acquire and prepare the site for development, including utility relocation, demolition, and environmental remediation. The District's infrastructure and land acquisition costs are capped at $150 million. DC United is responsible for the design, construction, and operation of the stadium, which is capped at $150 million. DC United is also responsible for ancillary development on the site.
Amended and Restated Ground Lease
The ground lease between the District and DC United is for 30-years with three five-year option extensions. At the conclusion of the term, the Buzzard Point site reverts to the District. The base rent during this term is $1 per year. In addition, DC United will pay the District $2 for each ticket sold in years 11 through 20 and $2 per ticket – adjusted by the consumer price index (CPI) –for each ticket sold in years 21 through the end of the ground lease. There is also a provision for the District to agree to a separate longer term for the ancillary-development portion of the site provided that DC United pays market rent during that additional term. The lease provides for a phased-in real-estate tax, under which the District would begin collecting DC United property taxes at 25% of their full rate after five years; 50% after 10 years; 75% after 15 years, with full taxes due from 20 years through the remainder of the term.
The agreement also contains strong provisions, similar to those in the Nationals Park and school modernization programs, for the inclusion of District-based businesses in development contracts as well as local resident hiring goals for construction and operation of the stadium. Specifically:
51% of jobs at the soccer stadium (ticket takers, guest services, ushers, food service, etc.) would go to District residents;
50% of all development-related contracts (e.g. design, construction, etc.) would to go to Certified Business Enterprise (CBE) businesses with 35% to small and 20% to disadvantaged business enterprises; and
35% of all stadium operation contracts (i.e. janitorial, food service, security, etc.) to go to CBE businesses.