Monday, February 27, 2017
Washington Business Journal - Karen Goff
What's now a dusty industrial site is officially a stadium construction project as D.C. United and District officials on Monday turned over ceremonial dirt at Buzzard Point, the site of Audi Field, D.C. United's 19,400-seat-stadium.
Time from shovels in the ground to fans in the seats: an estimated 14 months.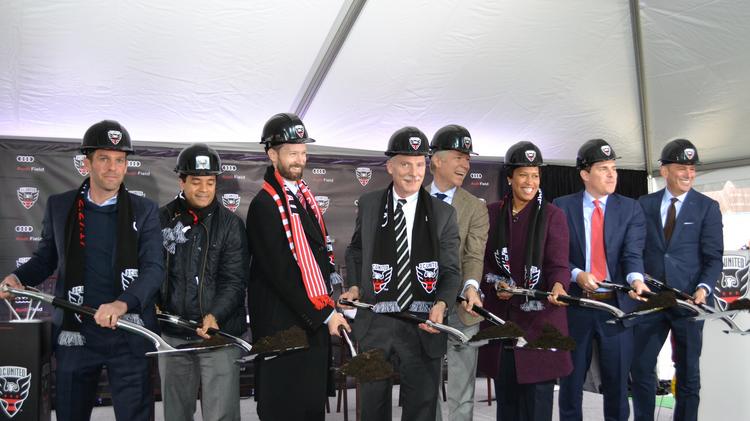 It's been a long road to the $300 million stadium. Team officials referenced the timeline as 21 years (since the team was founded and began playing at aging RFK Stadium) or 13 years (since it proposed a stadium at Poplar Point) or five years (since talk about the Buzzard Point site began) or one year (since applications were filed with the D.C. Zoning Commission). Oh, and let's not forget that abandoned plan to build in Prince George's County.
In any case, the time is now.
"There is maybe no better time, in our nation's capital, to build a cathedral, a mosque, a house of worship for the game of soccer," said D.C. United Managing Partner Jason Levien.
The stadium — which will be built at Second, T, and R streets and Potomac Avenue SW, just across South Capitol Street from Nationals Park — received final approval by the Zoning Commission on Feb. 16. A day prior, the team announced a multiyear deal with Audi for stadium naming rights. Audi is reportedly paying about $4 million a year for 10 to 15 years.
Levien was joined on the podium by D.C. Mayor Muriel Bowser; Deputy Mayor for Planning and Economic Development Brian Kenner; D.C. Councilman Charles Allen, D-Ward 6; Council Chair Phil Mendelson; D.C. United coach Ben Olsen; MLS Commissioner Don Garber; and Audi North America President Scott Keough.
Bowser said she was "thrilled to put together a fantastic package" for the team to have its own home in the District. D.C. United, working with Populous, Marshall Moya and Turner Construction Co., will put up $150 million to build the stadium. The city is funding the remainder through land acquisition, cleanup and infrastructure.
Bowser engineered a new deal for the location after her predecessor, Vincent Gray, had proposed a swap with Akridge for the Reeves Center at 14th and U streets NW. She nixed that and the city seized the site for the stadium by eminent domain; that case case is pending.
"We wanted to make sure we had the best deal for the people of Washington, D.C.," Bowser said. "We wanted to make sure the team was here to stay with us."
Monday's groundbreaking was actually the second one for the stadium. In April 2016, some of the same principals— Levien, Bowser, Kenner— gathered for the ceremonial demolition of an old metal shed as the city began site preparation work on what was surface parking lots in a highly industrial stretch near the Anacostia River.
The new stadium is expected to generate $1 billion in economic activity, said Kenner. It will also create hundreds of construction and permanent jobs and add hundreds of millions of dollars in tax revenue, he said.
Part of that will come from upcoming development around the stadium. There are several mixed-use plans in the works:
Akridge and Western Development are planning Riverpoint, a conversion of the 609,265-square-foot former Coast Guard headquarters at at 2100 Second St. SW into 425 apartments and 110 condos above roughly 80,000 square feet of retail space.
Douglas Development Corp. plans the conversion of 1900 Half St. SW, a vacant former General Services Administration building, into 462 apartments, 24,032 square feet of retail, a rooftop deck and a second-floor courtyard overlooking the Anacostia River.
Capital City Real Estate plans 90 to 107 condos and ground-floor retail at V, First and Half streets SW.
MRP Realty plans future retail and residential in the 1800 block of Half Street SW (including what is now the Ziegfeld's/Secrets nightclub).