Tuesday, October 27, 2015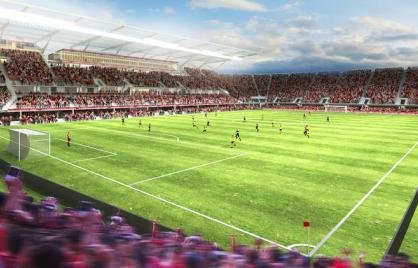 Washington Business Journal by Michael Neibauer
The District is officially spending money now on the D.C. United stadium project.
In the last 24 hours, the city has paid more than $25 million for parcels owned by two private entities — Super Salvage Inc. and Rollingwood Real Estate LLC. The lots are key parts of the D.C. United stadium footprint, which the District, as part of its deal with the team, was required to assemble. All told, the city expects to pay at least $85 million just to acquire the land.
With the deeds in hand, D.C. now has control of the parcels previously owned by three of four private landowners on the stadium site. On Sept. 30, the city used its quick-take eminent domain power to seize 2 acres from Akridge. The battle over compensation is now before a D.C. Superior Court judge. The District has put $21 million into escrow to cover what it argues the land is worth.
Akridge, as SW Land LLC, will be represented by David Fuss and Scott Cryder of Wilkes Artis Chtd., according to the latest court filings.
The District's more complicated arrangement with Pepco (it involves a land swap) for its Buzzard Point property is expected to close next week, city officials said. D.C. will pay $39.3 million for Pepco's Buzzard Point land.
Mark Ein's Rollingwood Real Estate collected $10,325,920 for a 25,612-square-foot parcel at 1714 Second St. SW, while Super Salvage was paid $15,861,752 for a 41,824-square-foot parcel at 1711 First St. SW.
In addition to the stadium footprint, D.C. will also prepare the site for vertical construction. The District's costs are not expected to top a cap of $150 million placed on it by the D.C. Council, unless Akridge wins big in court.
D.C. United will finance construction of the roughly 20,000-seat stadium at an estimated cost of $150 million.