Last Date:
Location:
600 14th Street, N.W. Washington, D.C. 20005
Details:
Join Mayor Muriel Bowser, Deputy Mayor Brian Kenner and some of the city's top 100 employers for a conversation on how we are working together to drive economic growth and inclusive prosperity in Washington, D.C.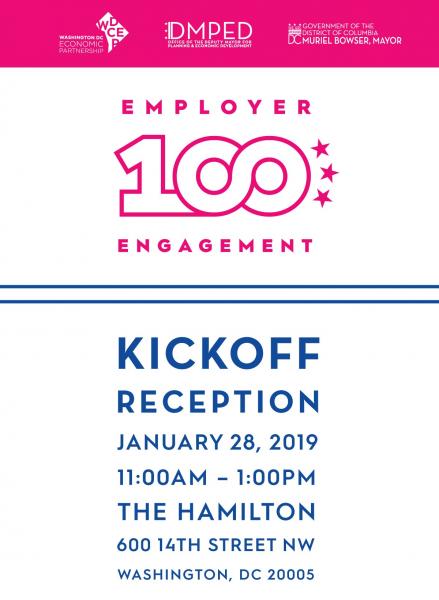 WHAT IS EE100?
EE100 is a program designed to engage the District's top 100 employers. During 2018, DMPED, in partnership with DOES Business Services Unit, identified the District's largest employers based on their number of employees and revenue size by sector, in addition to the fastest growing employers in the District. The pilot kicked off in fiscal year 2018.
WHY IS EE100 RELEVANT?
These employers have an outsized impact on the District's economy and employment prospects for DC residents. Better understanding their needs and perspectives positions the District create a better climate for business in the District and identify opportunities to collaborate on shared goals.
WHO WAS INVOLVED?
Universities, hospitals, nonprofit organizations, and companies from the following industries: hospitality and tourism, tech and innovation (included fastest growing), professional services, media and communications, and retail.
HOW DID YOU IDENTIFY THE TOP 100 EMPLOYERS?
Set Criteria for Employer Engagement Program
a. # of employers
b. revenue size
Created a list of Top 100 Employers
Developed standard interview questions
Developed employer profiles
Discussed employer needs
Shared key insights/takeaways with staff leadership
Followed-up with employers & provide solutions to their needs
HOW CAN EMPLOYERS GET INVOLVED?
Contact Phillip McAuley at DMPED, for more information at [email protected]

WHAT ARE THE BENEFITS?
Build long-term relationships with employers and gain insights into their needs
Better understand the challenges and opportunities affecting private sector growth
Connect employers with DC government resources
Establish POC in DC government for employers
Help to make the business environment friendlier
Enable networking opportunities amongst DC employers