Wednesday, February 17, 2016
Transformative Ward 8 project will create hundreds of jobs for D.C. residents, and serve as Wizards' new practice facility, Mystics' home court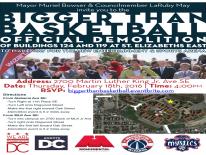 CONTACT:
LaToya Foster (EOM) – (202) 727-5011; [email protected]
Joaquin McPeek (DMPED) – (202) 727-6698; [email protected]
(WASHINGTON, DC) – Tomorrow, Mayor Muriel Bowser will be joined by Ward 8 Councilmember LaRuby May, Events DC CEO Greg O'Dell, Deputy Mayor for Planning and Economic Development Brian Kenner, Department of General Services Director Christopher Weaver and residents to demolish two buildings at St. Elizabeths, making way for a new state-of-the art sports and entertainment and Phase I development at this catalytic project in Anacostia.
Operated by Events DC, the 5,000 seat venue is projected to produce $90 million in new tax revenues over 20 years, attract more than 380,000 annual visitors per year, produce more than 600 construction jobs and 300 permanent jobs. Hiring priority will be given to Ward 7 and 8 residents.
Plans for Phase I development include 60 townhomes, 250 mixed-income apartments, a 171,000-square-foot office building with 47,000 square feet of integrated retail, a retail courtyard, and 100 underground parking spaces. Phase I infrastructure is scheduled to be completed in July 2018. The arena is schedule to open in September of 2018.
Once completed, the total St. Elizabeths project will eventually bring 1.8M SF of offices, 206k SF of retail, 1,300 residential units and at least two hotels to Congress Heights.
WHEN:
Thursday, February 18 at 4:00 p.m.
WHO:
Mayor Muriel Bowser
Councilmember LaRuby May, Ward 8
Deputy Mayor for Planning & Economic Development Brian Kenner
Director of the Department of General Services Chris Weaver
Events DC President & CEO Greg O'Dell
District Residents
WHERE:
2700 Martin Luther King Jr. Avenue, SE (see attached flyer for specific campus location)
*Closest Metro: Congress Heights Metro Station*