Mobility in the City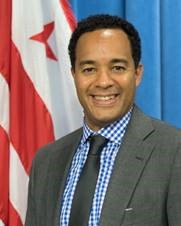 You've probably noticed that people are getting around DC in all kinds of ways – it's no longer just "planes, trains and automobiles" but bikes, scooters, Metro, walking, car sharing, taxis (water and land!) and buses. And as a growing city – that is expected to grow even more – we are increasingly focused on leveraging technology to move people, goods and services around the city, in efficient, safe and equitable ways.
One area we've been exploring for some time is how could autonomous vehicles fit into our transportation picture. In fact on October 22, Mayor Muriel Bowser, Deputy Mayor Brian Kenner and Sherif Marakby, CEO of Ford Autonomous Vehicles LLC, announced Washington, DC as Ford's next city to test autonomous vehicles. They also announced a new partnership between Ford and the DC Infrastructure Academy to train DC residents for jobs and careers in the autonomous vehicle industry.
Ford chose the District, in part, because of the progressive approach of our Mayor and the DMPED-led Interagency Autonomous Working Group to explore how self-driving vehicles can be deployed in an equitable and safe way across all eight wards and in a way that promotes job creation.
To start, Ford will have a vehicle terminal in Ward 5 with a handful of cars and you may see the cars around town testing and mapping DC streets (with human drivers – DC law requires this currently as the technology is tested).
Thank you to our Interagency AV Working Group for working to maximize benefits and proactively addressing challenges along the way. We are excited for what is to come in the mobility industry!

Regards,
Deputy Mayor Brian T. Kenner
#DMPEDdelivers #All8Wards

Mayor Muriel Bowser, Deputy Mayor Kenner and representatives from Ford, the Interagency AV Working Group and DOES announcing autonomous vehicle testing in the District