New Year, Renewed Commitment to YOU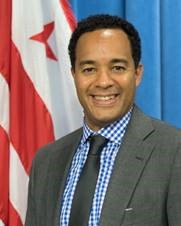 2019 is off to a rapid start at DMPED! It may be a new year, but our focus on jobs, tax revenue and affordable housing is as strong as ever. Not even a few days into the New Year, we broke ground on an exciting mixed-use project delivering on all three priorities – the South Capitol Apartments and a new Good Food Markets in Ward 8! This project is bringing fresh food options East of the River and brand new affordable and market rate apartments. We can't wait for that ribbon cutting!
Our New Year momentum continued as we hosted the top 100 employers in DC on Jan. 28 for the official kick-off of "Employer Engagement 100." I joined Mayor Bowser to discuss strategies for protecting and building the District's economy as well as ensuring employers are hiring District residents. The unprecedented federal government shutdown demonstrated that we must continue our focus on diversifying our economy. Our Employer Engagement 100 effort will continue throughout the year – read more in our preliminary report here.
The month ended with all of you at DC Econ UNPLUGGED, our open house to connect you to the people and programs that make up DC's economy. Thank you to everyone that came out to enjoy performances from DC musicians, artists and meet your leaders working in economic development. The event left us refreshed and energized to continue our work for YOU.
And there's lots coming up for DMPED. Our team will head to the West Coast again this month to engage with tech companies and promote the District nationally as the Capital of Inclusive Innovation. We are also planning our annual MARCH MADNESS pre-solicitation event – watch your emails for details as the time gets closer!
We thank each of you for supporting our efforts to make Washington, D.C. the best place to live, work and thrive. I look forward to a productive 2019!
Regards,
Deputy Mayor Brian T. Kenner
#ObviouslyDC #DMPEDdelivers #DCisOpen