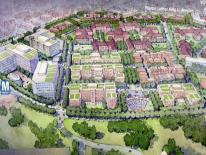 Washington Business Journal by Katie Arcieri
The District announced Tuesday that it will soon seek development partners for four projects — three east of the Anacostia — totaling thousands of square feet of retail, office, residential and restaurants.
The projects were announced Tuesday by the Office of the Deputy Mayor for Planning and Economic Development at its annual March Madness pre-solicitation event. Held this year at The Wharf, the event attracted throngs of contractors, small businesses and consultants.
"This year is a big year — it is the year of the Anacostia," said Sarosh Olpadwala, DMPED's director of real estate. "We are focusing on expanding inclusive prosperity and affordable housing to underserved areas of the District, particularly for longtime residents of Washington D.C."First up, in April, is a 4.2-acre lot on the St. Elizabeths East campus, directly west of the Congress Heights Metro station and next to the new entertainment center and arena that will open this fall. Olpadwala said this parcel — referred to as St. Elizabeths East Parcel 15 — can accommodate up to 400,000 square feet of retail and commercial uses and is considered a major entry point to the 180-acre St. E's campus.
"Redevelopment of this parcel should encourage pedestrian traffic and activity, particularly with ground-floor retail," he said.
In May, the city will kick off the RFP process for the 18,000-square-foot second phase of the Eden Place development at the corner of Dix Street and 61st Street NE. Located on the eastern edge Deanwood, the property can be redeveloped by right as a moderate-density mixed-use project, Olpadwala said, adding that the first phase of 50,000 square feet was completed in 2017 with 29 housing units.
Also in May, the city will release an RFP to redevelop a 27,024-square-foot site at 1004-1018 Howard Road in Anacostia, directly across from the Anacostia Metro station. Currently, it is a vacant parcel that could permit a "moderately sized urban residential development," Olpadwala said.
And in June, the city will seek developers to tackle a corner parcel totaling 42,252-square-feet at 2 Patterson St. NE, on the western edge of NoMa. It permits high-density development of various uses such as retail, office, housing and hotel.
In all cases, at least one-third of the residential units in any of these projects must be designated as affordable to residents at or below 30 and 50 percent of the area median income.
https://www.bizjournals.com/washington/news/2018/03/27/d-c-to-seek-development-partners-for-four-projects.html?ana=e_ae_set1&s=article_du&ed=2018-03-27&u=iwiEv47oBIqiyqQDXcPElcFKjr4&t=1522250579&j=80714721