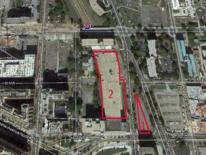 The Government of the District of Columbia (the "District"), through the Office of the Deputy Mayor for Planning and Economic Development (DMPED), seeks to develop Lots 0002 though 0006, and Lots 0800 though 0805, in Square 0563N ("Development Parcel 1"), as well as Air Rights Lot 7000, and Lots 830 and 834 in Square 0560 ("Development Parcel 2"). The Development Parcels are located near the intersection of 2nd and H Streets, NW.
DMPED invites qualified Development Teams ("Respondents") to respond to this Request for Expressions of Interest ("RFEI") for the development of Development Parcel 1, totaling approximately 9,653 sq. ft., and Development Parcel 2, totaling approximately 86,995 sq. ft., pursuant to either a ground lease of no less than thirty (30) years, or a fee simple transfer.
Release Date: June 20, 2014
Submission Deadline: August 28, 2014
Questions regarding this Request for Expressions of Interest should be submitted via email only to [email protected].