Tuesday, February 27, 2018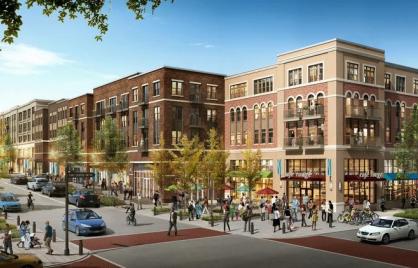 Washington Business Journal by Katie Arcieri
The troubled Skyland Town Center project in Southeast D.C. is finally underway. Really.
Developers WC Smith and The Rappaport Cos., along with D.C. Mayor Muriel Bowser, announced Tuesday that construction has begun on the $115 million first phase after the partners lined up an undisclosed amount of commercial financing, nearly $60 million through the EB-5 program and $25 million more from the city, including a $7 million grant for infrastructure work.
EagleBank (NASDAQ: EGBN) is the senior lender for the Ward 7 project's residential component — 263 units in the first phase. DCRC Skyland LLC, an affiliate of the D.C. Regional Center, is the senior lender for the retail component that includes 80,000 square feet. The developers closed on a $58.5 million EB-5 loan, via DCRC, in January 2017.
The EB-5 Immigrant Investor Program, created by Congress to encourage the infusion of foreign capital, exchanges U.S. legal residency for the creation of American jobs.
The construction of Skyland Town Center, located at the confluence of Good Hope Road, Naylor Road and Alabama Avenue SE, is underway more than two years after Wal-Mart abruptly backed out of the project. That decision forced Rappaport and WC Smith to replan, swap phases and delay construction.
It's still unclear exactly which tenant will backfill the Wal-Mart space, to be constructed during a later phase, but city officials confirmed Tuesday that the project is moving forward now that an $18.75 million tax-increment financing package has been approved. As WBJ previously reported, the city is also providing up to $3.6 million to Safeway in order to rid Skyland of a restrictive covenant designed to limit competition around Safeway's nearby store at 2845 Alabama Ave. SE.
"We couldn't have done it without Mayor Bowser who stepped up when Walmart backed out," said Chris Smith, chairman and CEO of WC Smith. "The Skyland Town Center is a legacy project for both Rappaport and WC Smith."
The project is part of a longtime effort by the city to transform the now-razed Skyland Shopping Center into a mixed-use development. It is approved for up to 320,000 square feet of retail and 450 to 500 multifamily units. The District acquired the site, largely through an extended eminent domain process, across three mayoral administrations, beginning with that of Anthony Williams.
The first phase should be complete in about two years. It includes a 10,000-square-foot CVS pharmacy and officials say there is interest from full-service restaurants to take additional space.
https://www.bizjournals.com/washington/news/2018/02/27/after-extensive-delays-skyland-town-center-project.html?ana=e_ae_set1&s=article_du&ed=2018-02-27&u=iwiEv47oBIqiyqQDXcPElcFKjr4&t=1519828177&j=80225601