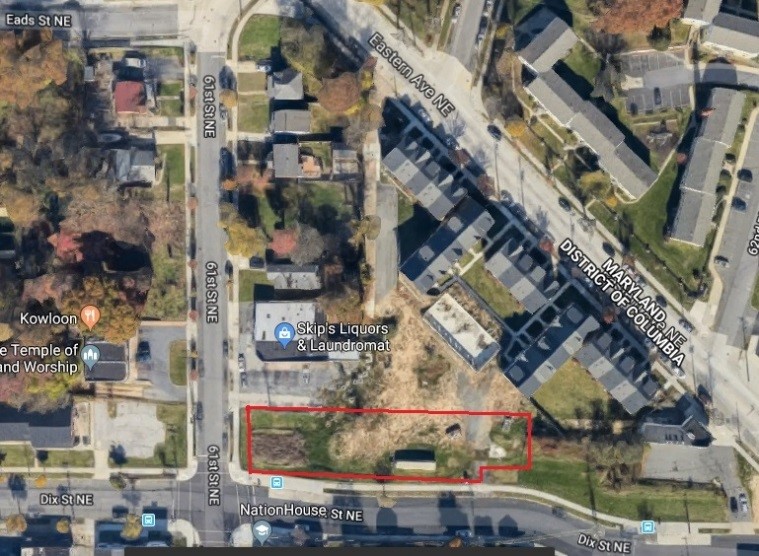 Eden Place Phase 2 is located in the eastern portion of the Deanwood neighborhood of Ward 5. The site is zoned MU-4, which allows by-right, moderate-density mixed-use development. It is approximately 18,000 square feet and currently vacant. The site was originally contemplated as the second phase of the Eden Place Phase 1 development, which is immediately adjacent to this property. Eden Place Phase 1 delivered in 2017 and brought 29 affordable townhomes to the neighborhood.
The Office of the Deputy Mayor for Planning and Economic Development ("DMPED"), issued a Request for Proposals (RFP) for Eden Place Phase 2.
DMPED is extending the submission deadline to October 12, 2018 to provide additional time to study the existing conditions of the Site. See Amendment No. 1, issued on August 27, 2018.

DMPED received questions from the public during the Pre-Response Information Session that was conducted on September 21, 2018. DMPED's responses to those questions, are hereby incorporated into the RFP by amendment. See Amendment No. 2.
"Please upload response documents for Eden Place Phase 2 RFP here. Please name files as follows: "Eden Place Phase 2 – [Respondent Name] – [File Type] – [Date]". Please see the RFP for submission deadline. If you have any questions, please contact the project manager."
Please check this web page periodically for additional information. Please email Miguel Garcia, Project Manager at [email protected] if you have any questions.