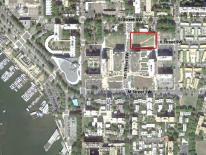 1000 4th Street, SW; Square 0542, Lot 0822
Waterfront Station is a 59,044 square foot vacant parcel ("Site") on 4th Street SW in Ward 6, one block north of the Waterfront Metro station entrance. This property was formerly occupied by the Waterside Mall and offices of the Environmental Protection Agency. The Zoning Commission approved a First-Stage Planned Unit Development (PUD) for the site, (Order No. 02-38A), in 2007. That order has since been extended until April 15, 2017 under Zoning Commission Order No. 02-38F.
A Request for Proposals for Waterfront Station Parcel was issued on April 17, 2015. The submission deadline for proposals was May 22, 2015. The District awarded the Exclusive Right to Negotiate to a team lead by PN Hoffman and AHC Inc. on March 25, 2016.
Questions should be directed to Marc Bleyer, Project Manager at [email protected].