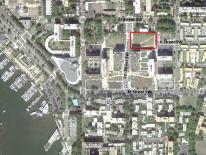 RFP No. DCEB-2015-R-5001
The Government of the District of Columbia, through the Office of the Deputy Mayor for Planning and Economic Development, seeks to redevelop a 59,044 square foot parcel located at 1000 4th Street, S.W., Washington, D.C. 20024 ("Northeast Building Site"), one block north of the entrance to the Waterfront Metro station ( the "Project"). The site uses should include mixed-income housing and ground floor community-serving retail or municipal services.
DMPED invites qualified development teams ( "Respondents") to respond to this Request for Proposals ("RFP") for the disposition and development of the Northeast Building Site, which is Lot 822 in Square 542, pursuant to a fee simple transfer.

Release Date: April 17, 2015
Submission Deadline: May 22, 2015 3:00 PM EST
A Pre-Response Conference and Site Tour was held at the Southwest Branch Library on Friday, April 24, 2015.
Questions regarding this Request for Proposals should be directed to Marc Bleyer, Project Manager at [email protected].
RFP No. DCEB-2015-R-5001 Waterfront Station Parcel (1000 4th Street, SW)
Waterfront Station RFP - Pre-Response Conference Presentation
Waterfront Station RFP - Pre-Response Conference Attendance List
Waterfront Station RFP - Pre-Response Conference Questions and Answers, dated April 24, 2015 & May 8, 2015