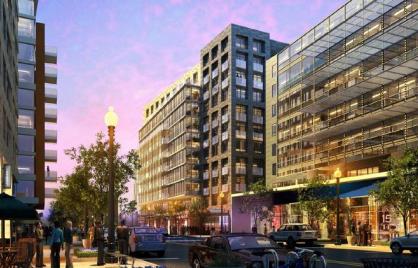 Washington Business Journal by Michael Neibauer
Between The Wharf and Riverside Baptist Church projects, PN Hoffman has a dominant development presence in Southwest D.C. As of Friday, add another to its plate.
The District announced that the team of PN Hoffman, Paramount Development, ER Bacon Development, CityPartners and AHC Inc. have won the right to develop Waterfront Station II, a 59,000-square-foot lot at 1000 Fourth St. SW. Their winning plan, designed by Torti Gallas, includes 310 market-rate apartments, 133 affordable units (30 percent of the total), a 10,000-square-foot black box theater and roughly 22,500 square feet of neighborhood-serving retail.
That pitch earned the team the full-throated support of the local Advisory Neighborhood Commission, whose opinion is required to receive "great weight" in these matters. The Hoffman-led group was selected over two competing groups, one led by MRP Realty and the other by Republic Properties Corp.