Tuesday, October 20, 2015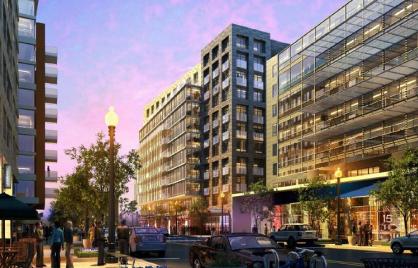 Washington Business Journal by Michael Neibauer

Neighborhood leaders representing the Southwest waterfront area area have picked a favored team to tackle the last of the D.C.-owned Waterfront Station parcels.
Advisory Neighborhood Commission 6D, whose voice is, in theory, to receive "great weight" as the District weighs its choices, has selected a team led by PN Hoffman (a co-lead developer of The Wharf on the Southwest waterfront) and AHC Inc. to develop the 59,000-square-foot parcel at 1000 Fourth St. SW.
"The applicants have shown exemplary commitment to the Southwest Community and their highest profile development hasn't even yet opened," the ANC writes in its resolution supporting the Hoffman-AHC bid. "They are locating their headquarters in Southwest. Their leadership already lives here or will become Southwesters once they receive certificates of occupancy for 525 Water and VIO [both at The Wharf]. While other developers have built and flipped for quick profit, the applicants are committed to the overall development of Southwest both as anchors of our major development at The Wharf and as founding members of the new Southwest BID."
Team members also include Paramount Development LLC, ER Bacon Development LLC, CityPartners, Forum Theatre, Cultural DC, Arena Stage, Georgetown University LAB and architect Torti Gallas Urban.
Two other teams are still very much in the running. They are:
MRP Realty, Taylor Adams Associates, Kettler and Blue Skye Construction, which have proposed a 400,000-square-foot, 11-story u-shaped building with 421 total units (168 affordable), 9,000 square feet of retail and a private street along the northern edge of the property lined with active residential and amenity uses.
Republic Properties Corp. (developer and owner of the Portals complex in Southwest) and the Anacostia Economic Development Corp., which have pitched 378 apartments, 8,000 square feet of neighborhood-serving retail, amenities that include a pool and rooftop terrace, and a two-level, 258-space underground parking garage.
Per ANC 6D, PN Hoffman got the nod for its promise to develop the neighborhood as a cultural destination, for the amount of retail it provided ("more retail is better if we are seriously committed to reestablishing a thriving town center"), and for the amount of truly low-income, affordable housing it offered in its plan.
The overall Waterfront Station includes twin office buildings at 1100 and 1101 Fourth St. SW, the Lex and Leo apartments(formerly Sky House East and West) at 1150 and 1151 Fourth, a new mixed-use building from Forest City Washington and Vornado Realty Trust at 1001 Fourth, and future office buildings at 375 and 425 M St. SW.
The Office of the Deputy Mayor for Planning and Economic Development is expected to make its pick for the last Waterfront Station parcel next month.