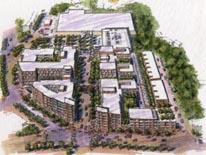 The Skyland Town Center project has been designed to promote neighborhood revitalization and economic growth on an 18-acre site located in Ward 7 at the intersections of Good Hope Road, Naylor Road, and Alabama Ave SE. The potential of this site is significant due to its prominent location, the considerable land area available for redevelopment, and the resources and public benefits the project would provide to the neighborhood.
Approved Planned Unit Development (PUD) plans for Skyland call for more than 315,000 square feet of retail space, which is planned to be a combination of national, regional, and local retailers and restaurants. The project will also include 468 units of housing.
The development team received a final approval of its PUD application to the Zoning Commission in the summer of 2010. Starting in 2014, existing structures were demolished. Utility infrastructure improvements, including a new water main, were constructed within Alabama Avenue, Good Hope Road, and Naylor Road. Also, the first phase of on-site infrastructure has been constructed. This includes new water, gas, storm, and sanitary mains that will service the future buildings. It is anticipated that Block 2 will be substantial completed by mid 2020.
You can see live webcam views of the Skyland Project here: https://www.skylandtowncenter.com/location/skyland-webcams/
Current project information may be found here:
Surplus and Disposition