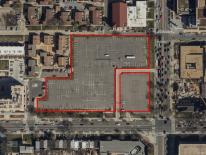 The Government of the District of Columbia, through the Office of the Deputy Mayor for Planning and Economic Development ("DMPED"), is issuing a Request For Proposals ("RFP") for the 3.5 acre Northwest One site at North Capitol and K Street NW in Ward 6. Northwest One is part of the New Communities Initiative, a District program focused on creating vibrant mixed-income and mixed-used neighborhoods through physical architecture and human capital development. The RFP is also the product of the "OurRFP" process, a Mayoral initiative that incorporates community engagement early in the RFP process. Early engagement with the community ensures that the public's perspective and priorities are understood in conjunction with the District's goals when crafting and issuing an RFP.
May 11, 2017 – Northwest One—Notice of Development Team Shortlist

Recap of OurRFP Events:

April 1, 2017 - DMPED held a Northwest One RFP: Developer Presentations meeting. Over 50 community members came out to hear from and provide feedback to eight different development teams competing for the opportunity to redevelopment 3.5 acre Northwest One site, which includes the former site of Temple Courts Apartments. For handouts and the presentations from the meeting in order of the agenda use the following: Northwest One RFP: Developer Presentations

November 29, 2016 - The District conducted a public meeting to receive public comments on the proposed surplus of District property, 1010-1024 North Capitol Street, NW, Lot 0860 in Square 0621 at the Northwest One Library.

October 17, 2016 - DMPED held a Pre-Response Information Session and Site Visit at the Northwest One Library.
Northwest One Pre-Response Information Session Presentation - October 17, 2016
July 26, 2016 – DMPED held a Follow-Up Meeting at RH Terrell Recreation Center in order to reconnect with the community on the feedback received through the first Workshop and Online Engagement Forum and further hone the major community preferences with an interactive exercise. The feedback on preferences were incorporated along with citywide objectives (including those of New Communities) to create the RFP.
June 21st, 2016 - DMPED held an OurRFP Public Workshop at RH Terrell Recreation Center (155 L Street NW) that included a presentation and an interactive discussion of the community's goals and preferences for the redevelopment of the District controlled properties located at 1010 North Capitol Street NW and 33 K Street NW in the Northwest One neighborhood. At the OUR RFP workshop, the District presented a thorough analysis of the site and neighborhood, with a consideration of both market dynamics and the goals of New Communities. Participants were invited to share their thoughts on the future development in facilitated break-out group sessions.
Northwest One OurRFP Presentation – June 21, 2016
For more information, please visit dmped.dc.gov for updates.