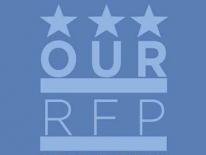 The Government of the District of Columbia, through the Office of the Deputy Mayor for Planning and Economic Development (DMPED), is proud to introduce "Our RFP," a Mayoral Initiative that will incorporate community engagement early in the request for proposals (RFP) process. Early engagement with the community will ensure that the public's perspective and priorities are understood in conjunction with the District's goals when crafting and issuing the RFP for this District-owned parcel.
DMPED has used this process in the following locations: Chevy Chase Civic Site located at 5601 & 5625 Connecticut Avenue NW in Ward 3, Parcel 42 located at 1707 7th Street and 639 Rhode Island Avenue, NW ( Square 0442, Lot 0106 & 0803) in the Shaw neighborhood, Crummell School at 1900 Gallaudet and Kendall Streets, NE in Ward 5, 1125 Spring Road, NW; Northwest One located at North Capital and K Streets, NW in Ward 6; Eastern Branch Boys and Girls Club located at 261 17th Street, SE in Ward 6; and Fletcher-Johnson school located at 4650 Benning Road SE in Ward 7.
The process is intended to provide transparency throughout the RFP process as well as accountability for delivering public benefits through the Our RFP Process.