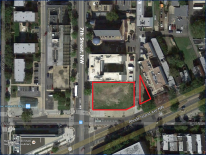 Government of the District of Columbia, through the Office of the Deputy Mayor for Planning and Economic Development ("DMPED"), issued the Request for Proposals (RFP) for Parcel 42 in Ward 6, the pilot project for the OurRFP process.
The RFP was the product of "OurRFP, Mayor Bowser Announces Initiatives to Foster Economic Opportunity Support Small Business Growth" a Mayoral initiative that incorporates community engagement early in the RFP process. Early engagement with the community ensured that the public's perspective and priorities were understood in conjunction with the District's goals when crafting and issuing the RFP for this District-owned parcel.
DMPED piloted this new process for Parcel 42 located at 1707 7th Street and 639 Rhode Island Avenue, NW ( Square 0442, Lot 0106 & 0803) in the Shaw neighborhood. The process is intended to provide transparency throughout the RFP process as well as accountability for delivering public benefits that are committed through the OurRFP.
Recent Events:
April 13, 2016 - Five development teams presented their proposals to the community. The community then had an opportunity to ask questions and provide feedback on the presentations. The presentations are posted below and members of the public are welcome to ask questions and provide additional comments through an online forum, just go to this link: Online Forum. Additionally, questions presented by the public at this meeting can be found under " Related Content" below.

February 5, 2016 - DMPED announced the responses for the redevelopment of Parcel 42. The six proposals include plans for affordable housing, retail, sustainable design, and public space in the District's Shaw neighborhood. The respondents submitted competitive proposals representing most, if not all of the community preferences from the RFP. Next steps include evaluation of the respondents, follow up presentations and engagement with the community, and ultimate selection of the successful development team.
July 28, 2015 - DMPED held a follow up meeting at the Watha T. Daniel/Shaw Neighborhood Library in order to reconnect with the community on the feedback received through the Workshop and Online Engagement Forum, further hone the major community preferences with an interactive exercise and to explain how community input will be incorporated in the RFP.
June 13, 2015 - Public Workshop at which DMPED and the Office of Planning staff presented information about the OurRFP initiative as well as a thorough analysis of the Parcel 42 site, neighborhood and market context. DMPED also received feedback on how to shape the future redevelopment of this site from members of the public in attendance through a facilitated break-out group session. DMPED also received public input through an Online Engagement Forum, which asked questions similar to those discussed at the workshop to ensure that those who could not participate were able to have their ideas heard.
Please check this web page periodically for updates and additional information. Please email [email protected] if you have any questions.