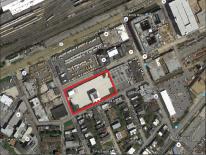 The Government of the District of Columbia, through the Office of the Deputy Mayor for Planning and Economic Development ("DMPED"), is issued a Request for Proposals (RFP) for the Crummell Site in the Ivy City Neighborhood in Ward 5.
The RFP was a product of "OurRFP," a Mayoral Initiative that incorporates community engagement early in the Request for Proposals (RFP) process. Early engagement with the community ensures that the public's perspective and priorities are understood in conjunction with the District's goals when crafting and issuing the RFP.
DMPED piloted this process with Crummell School, located at 1900 Gallaudet St, NE (PAR Suffix 0142, Lot 0022) in the Ivy City neighborhood. The process is intended to provide transparency throughout the RFP process as well as accountability for delivering public benefits that are committed through the Our RFP Process.
Recent Events:
September 22, 2016 – Three development teams presented their proposals to the community. Community members then engaged with the development teams in a question and answer session to provide feedback on the presentations. The presentations are posted below and members of the public are welcome to ask questions and provide additional comments through an online forum, just go to this link: https://goo.gl/forms/AqVw9SZ0y7PTop203 . Additionally questions presented by the public at this meeting can be found under "Related Content" below.
July 7, 2016 – DMPED Announces Responses to Crummell School, One of District's Piloted "OurRFP" Projects. DMPED announced responses for the redevelopment of Crummell School Site. The three proposals include robust plans for affordable housing, healthcare, retail, and community recreational space in the District's Ivy City neighborhood.
DMPED held a Follow-up meeting on September 19th to reconnect with the community on the feedback received through the Workshop and Online Engagement Forum, further refine major community preferences, and explain how community input will be incorporated in the RFP.
DMPED held a Public Workshop on July 29, 2015 at which Mayor Bowser, DMPED and the Office of Planning staff presented information regarding this new initiative and provided a thorough analysis of the Crummell School site, neighborhood and market context. DMPED also actively solicited feedback on how to shape the future development of this site from residents and community members in the form of a facilitated break-out group session.
DMPED also received public input through an Online Engagement Forum, which asked questions similar to those discussed at the workshop to ensure that those who could not participate were able to have their ideas heard. Please see the Community Feedback Report included at the end of the RFP for complete information about the results of the Our RFP for this site.
Please check this web page periodically for additional information.