Next Date:
Wednesday, December 15, 2021 -
Details: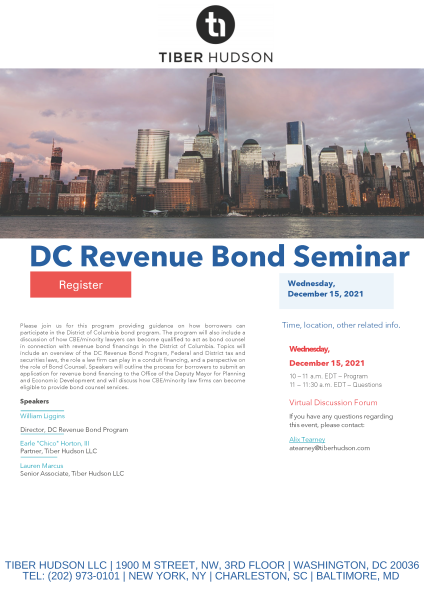 Please join us for this program providing guidance on how borrowers can participate in the District of Columbia bond program. The program will also include a discussion of how CBE/minority lawyers can become qualified to act as bond counsel in connection with revenue bond financings in the District of Columbia. Topics will include an overview of the DC Revenue Bond Program, Federal and District tax and securities laws, the role a law firm can play in a conduit financing, and a perspective on the role of Bond Counsel. Speakers will outline the process for borrowers to submit an application for revenue bond financing to the Office of the Deputy Mayor for Planning and Economic Development and will discuss how CBE/minority law firms can become eligible to provide bond counsel services.
Virtual Discussion Forum

Program — 10:00 - 11:00 a.m.
Questions — 11:00 - 11:30 a.m.

Speakers
William Liggins
Director, DC Revenue Bond Program

Earle "Chico" Horton, III
Partner, Tiber Hudson LLC

Lauren Marcus
Senior Associate, Tiber Hudson LLC
If you have any questions regarding this event , please contact Alix Tearney, [email protected].