REQUEST FOR PROPOSALS (RFP)
ST. ELIZABETHS EAST - PARCELS 8, 9, & 13
Release Date: January 17, 2020
RFP Response Deadline: March 9, 2020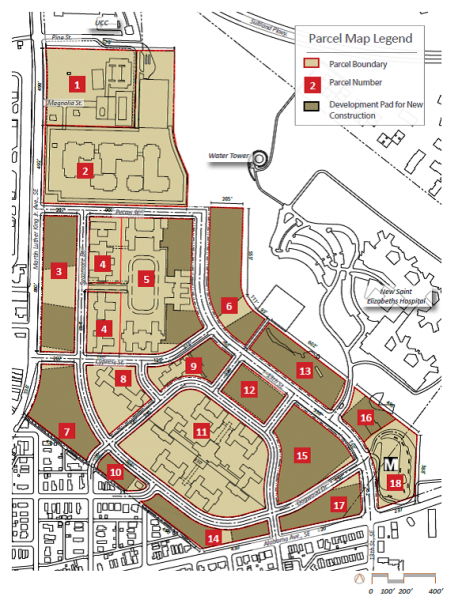 The Government of the District of Columbia, through the Office of the Deputy Mayor for Planning and Economic Development ("DMPED"), seeks to redevelop the approximatesly 5.5 acres of land located at 1100 Alabama Avenue, SE known for taxation purposes as Square 5868, Lots 822, 819, and 817 ("Parcels 8, 9, and 13" respectively).
East Campus, located at 2700 Martin Luther King Jr. Ave., SE, is located in the Congress Heights neighborhood in Southeast Washington, D.C., approximately 3 miles from the U.S. Capitol and directly across the street from the historic St. Elizabeths West Campus, the future home of the U.S. Department of Homeland Security's ("DHS") consolidated headquarters.
The Site (Square 5868, Lot 810) is located at 1100 Alabama Ave. SE and consists of Parcels 8,9 and 13. The Site is bound by Cypress St., SE to the north, Oak Drive SE to the south, and both Parcel 9 and 13 are connected to the future 13th St. SE to the east. The new ESA is located southwest of Parcel 13. The Congress Heights Metro station is immediately southeast of the Site. The Site is approximately 5.5 acres or 239,580 square feet. There are two existing historic buildings, one on Parcel 8 and 9 respectively, that are approximately 67,542 square feet and 33,999 respectively, that must be retained. The Parcel 9 area next to the ESA is being used as ground leased surface parking to serve the ESA.

Pre-Response Information and Site Visit
DMPED will conduct a pre-response information session and site visit at the RISE Demonstration Center, 2730 Martin Luther King Jr. Ave., SE. on Tuesday, January 28, 2020.
11:00–11:15 am: Check-in
11:15–12:00 pm: Information and Q&A Session
12:00–12:45 pm: Tour of Site
Respondents should RSVP by Friday, January 24, 2020, by emailing [email protected] with the name, organization, phone number, and email address of the attendee.
"Please upload response documents for St. Elizabeths East - Parcels 8, 9, & 13 here. Please name files as follows: "St. Elizabeths East - Parcel 8, 9, & 13 – [Respondent Name] – [File Type] – [Date]". Please see the RFP for submission deadline. If you have any questions, please contact the project manager."
Questions regarding this Request for Proposals should be submitted via e-mail only to [email protected]. Respondents shall not direct questions to any other person within the District except as allowed elsewhere in this RFP.