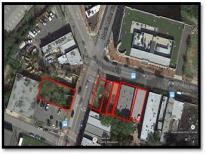 1201 - 1215 Good Hope Road, SE; , Lots 1017, 0847, 0867, 0866, 0864 in Square 5769
1909 - 1913 Martin Luther King Jr. Avenue, SE; Lot 829 in Square 5770

MLK Gateway consists of two parcels at the intersection of Good Hope Road and Martin Luther King Jr. Avenue SE in Historic Anacostia within Ward 8. The first parcel is 13,287 square feet with approximately 141 feet of frontage on Good Hope Road and is improved by four building shells with historic facades. The buildings were formeerly occupied by various retail businesses, but are currently vacant. The second parcel is 5,400 square feet, has approximately 54 feet of frontage on Martin Luthers King Jr. Avenue, and is a vacant lot.
The Office of the Deputy Mayor for Planning and Economic Development (DMPED) and the Department of Housing and Community Development (DHCD) issued a joint Request for Proposals (RFP) for the MLK/Gateway Community in Historic Anacostia on May 31, 2016.
On Friday, December 16, 2016, the District announced the selection of Menkiti Group and Enlightened, Inc. to lead the development of MLK Gateway.
Current project information may be found here: