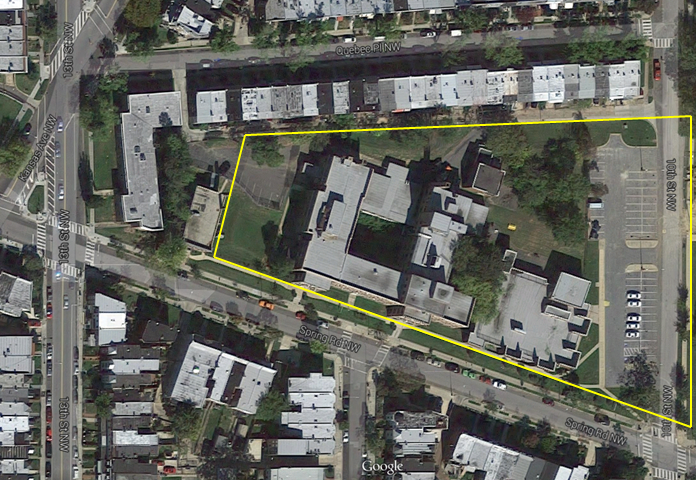 On June 30, 2016, the Government of the District of Columbia, through the Office of the Deputy Mayor for Planning and Economic Development ("DMPED"), issued a Request for Proposals ("RFP") for the redevelopment of 1125 Spring Road, NW, in the Petworth neighborhood. The RFP was the product of the "OurRFP" process, a Mayoral initiative that incorporates community engagement early in the RFP process. Early engagement with the community ensures that the public's perspective and priorities are understood in conjunction with the District's goals when crafting and issuing an RFP.
Recent 1125 Spring Road OurRFP Events:
DMPED hosted developer presentations of their proposals to the community on May 25, 2017, at Raymond Recreation Center. At the meeting, seven development teams gave presentations on their proposals and answered questions from the community. The presentations are posted below and members of the public are invited to review them and provide any comments through an online forum available here: https://goo.gl/frtYFa The forum will close on June 9th.
DMPED conducted an information session and introductory site visit on Wednesday, July 13, 2016, at 1 pm. A list of RSVPs and attendees is available below. An additional site tour was conducted on September 22, 2016.

June 2, 2016 – DMPED held a Follow-up Meeting on June 2nd at Raymond Recreation Center in order to reconnect with the community on the feedback received through the Workshop and Online Engagement Forum and further hone the major community preferences with an interactive exercise.
April 9, 2016 – DMPED held a Public Workshop Meeting at Raymond Recreation Center. After presentations regarding the OurRFP process and context of the Site, community participants then had an opportunity to give their input on topics including housing priorities, design priorities, and public space priorities in small discussion groups. Each small group was paired with a District government employee to facilitate discussion and record ideas from the community members. DMPED also received public input through an Online Engagement Forum that mirrored the prompts and exercise from the April 9th meeting. DMPED also received handwritten comments, emails, and phone calls from community members and stakeholders interested in sharing their thoughts on the Site.
Please check this web page periodically for additional information. Please email [email protected] if you have any questions.