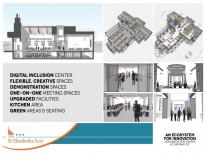 Request for Qualifications
To: Workforce Development One-Stop Operators
Solicitation No.: DCEB-2017-Q-1001
Caption: One-Stop Career Centers Operator
Issuance Date: Tuesday, February 21, 2017
Due Date: Wednesday, April 5, 2017 at 2:00PM ( See Amendment No. 003)
The Government of the District of Columbia, Office of the Deputy Mayor for Planning and Economic Development (DMPED), on behalf of the Office of the Deputy Mayor for Greater Economic Opportunity (ODMGEO), Workforce Investment Council (WIC), is soliciting statements of qualifications ("Qualifications") from professional firms ("Respondents") for selection of a One-Stop Operator, in accordance with the terms, provisions, specifications, and solicitation instructions set forth in the Request for Qualifications. This Request for Qualifications ("RFQ") provides Respondents with the information necessary to prepare and submit Qualifications Statements for consideration by DMPED and the WIC.
This Request for Qualifications ("RFQ") is issued in accordance with 27 DCMR § 1615.1 which allows the DMPED Contracting Officer CO) to determine which prospective Contractors are qualified to receive and submit responses to a Request for Proposals (RFP) for the Operation of One-Stop Career Centers within the District of Columbia, based on financial and professional criteria established by the CO for pre-qualification.

Request for Qualifications (RFQ) for One-Stop Career Centers Operator

Questions concerning this Request for Qualifications maybe directed to Mr. Lindel Reid, Senior Contract Specialist, electronically at [email protected].