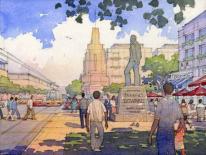 The New Communities Initiative (NCI) is a District government program designed to revitalize severely distressed subsidized housing and redevelop neighborhoods into vibrant mixed-income communities. The Initiative includes four neighborhoods in the District of Columbia: Barry Farm in Ward 8, Lincoln Heights - Richardson Dwelling in Ward 7, Northwest One in Ward 6, and Park Morton in Ward 1. The New Communities Initiative is funded through public bond financing that allows the District to leverage funding for development projects.
The vision for the New Communities Initiative is for vibrant mixed-income neighborhoods that address both the physical architecture and human capital needs, where residents have quality affordable housing options, economic opportunities and access to appropriate human services. Four guiding principles lay the framework for New Communities.
One for One Replacement of existing affordable housing units to ensure that there is no net loss of the existing deeply subsidized units in the neighborhood.
The Opportunity for Residents to Return/Stay in the Community to ensure that current residents will have a priority for new replacement units in effort to remain in their neighborhood.
Mixed-Income Housing to end the concentration of low-income housing and poverty.
Build First, which calls for the development of new housing to begin prior to the demolition of existing distressed housing to minimize displacement.
The human capital component of New Communities Initiative is a critical element of the initiative and focuses on providing supportive services to residents to help households achieve self-sufficiency. The District partners with service providers to provide comprehensive case management services to New Communities residents. Health and wellness, employment, education, financial literacy and parenting are among the robust services that are offered to residents. Service providers are funding by the District through the New Communities human capital grant program.