Wednesday, December 13, 2017
A report released by WDCEP shows trends in tech and coworking leasing.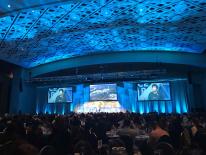 Technical.ly DC by Stephen Babock
Tech firms leased more office space in D.C. over a recent 12-month period than the prior year, while coworking spaces signed on for fewer square feet.
Those trends come according to the latest DC Development Report, which was released by the Washington D.C. Economic Partnership at the organization's annual meeting on Tuesday. WDCEP partners with commercial real estate services firm CBRE on the report, and the results come from a "development census" taken in August.
Tech firms signing new leases over the 12 months ending in August 2017 accounted for more than twice as much as much space as in 2016. According to the report, tech firms accounted for 374,000 sq. ft. of leasing activity in the last 12 months. The previous year's total leased space for tech companies was 180,000 sq. ft.
"Much of this leasing activity has been net new demand, with the sector contributing 141,000 sq. ft. of occupancy gain," the report states.
Interestingly, overall leasing activity in coworking was down for the year. Leases signed accounted for 198,000 sq. ft. of space over the last year, as compared with 380,000 sq. ft. in the prior year. The report states the slowdown comes as coworking companies are likely "decelerating their growth trajectory as they seek to stabilize current locations."
There could be another bounce coming. The end of the year saw new spaces open from cove and The Yard. And more could be on the way. The report also adds that 11 coworking companies "are currently in the market looking for space totaling roughly 320,000 sq. ft."
Tech offices among the top offices signed include Facebook, Yelp, Rally Health and FiscalNote's new lease. As we've noted, not all of these offices hire tech talent, but their presence can have ripple effects in the community.
The report also points to tech's role as part of a wider shift in the D.C. office market. From the report:
While the federal government and law firms remain in contraction mode, tenants from non-traditional industries such as co-working, nonprofits and trade associations, technology, and consulting have become drivers of demand. Year-to-date, these tenants have contributed 602,000 sq. ft. of occupancy gain, while the federal government and legal sectors have contracted by 359,000 sq. ft. DC's concentration of highly- skilled workers, combined with a strong amenity base and rebounding economy has helped to attract a wide array of tenants.
During the annual meeting held inside a Walter E. Washington Convention Center ballroom, attracting tech firms was also a key talking point for Mayor Muriel Bowser and Deputy Mayor for Planning and Economic Development Brian Kenner even as Bowser said the federal government has been "unpredictable." They noted Yelp's decision to move its East Coast hub to downtown D.C., and also noted the District's Amazon HQ2 bid.
While the city is showing up as a pick of some handicappers, Kenner said he is often asked about how the District would handle the growth to accommodate the 50,000 jobs it could bring.
"If you think about where Washington DC is going to be in 2030, we're going to be adding north of 30 million sq. ft. of development…and that's without Amazon. So some of these questions and some of these issues that people are presenting about Amazon aren't really Amazon issues.
Of course, he would like the tech giant to come, but said that growth is happening anyway.
"Washington D.C. is a place that people are choosing, and increasingly companies are choosing," he said.