Washington Business Journal by Andy Medici
When Gavin Daniels designed the new incubator at Howard University, he wanted visitors to feel welcomed and rejuvenated.
Daniels, a principal at Wingate Hughes Architects PLLC, got the call about working on the Inclusive Innovation Incubator — or In3 for short — in August 2015. With the incubator slated for a soft opening in the next few weeks, work on the space is nearly done and he's ready to show it off.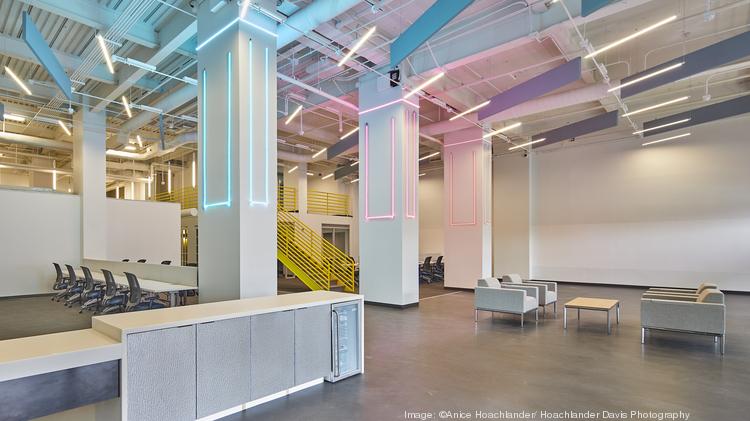 The incubator, 2301 Georgia Ave. NW, is positioned just across the block from Howard University's campus and is nestled among the shops and businesses that line the street. That means students, workers and professionals crowd the streets at peak times.
"In a lot of ways there is a lot of stress outside this space," Daniels said. "When I walk in these doors I feel relaxed, I feel refreshed, and I feel rejuvenated."
Visitors are greeted by 22-foot ceilings, LED lighting that change colors depending on the event or occasion, colorful sound baffling to make sure noises don't echo across the open space. There are also pops of color, including the bright yellow stairwell and the green astroturf on top of the classrooms.
Ultimately it's about making a diverse community feel comfortable in the space and confident and capable of innovating, Daniels said.
"That's what I think is most successful in the design," Daniels said. "To take this moment of respite from everything else that is busy and crazy and just give you that moment to think about what you have to get done in your work."
The incubator has been a long time in the making. D.C. provided $1 million in grants to Howard University to establish the incubator. Last February, the city and Howard picked Aaron Saunders' Clearly Innovative's education arm, Luma Lab, to run the space. Saunders is paying rent to Howard.
In January, I talked with Saunders about his struggle to find corporate sponsors to help defray the costs of the space, which could run $1.2 million annually. The nearly 8,000-square-foot incubator has nearly 60 workstations, 11 offices and five classrooms.
Brian Kenner, deputy mayor for planning and economic development, said in a D.C. Council oversight hearing Wednesday that the city is "excited" about getting close to completing the space and opening the incubator.
"We are very excited about not only about Luma Labs opening in that space but we are hearing lots of interest from partners who are interested in partnering with Luma Labs to make it a success.," Kenner said.
For Daniels, the space design was a combination of creating an inviting community space but also using a light touch so that the incubator does not look dated in a few years. And while other spaces he designed (including the expansion to 1776's D.C. location) had specific themes, he wanted to make sure the community could add to his design and make it their own. He envisions new signs, community murals and new ways to use the space as time goes on.
"We wanted to allow the users of the space to find a way to make it their own," Daniels said. "It can't be about a cool design trend for 2017. It needs to be about a space to be developed over the years. We expect this space to be around for a long time."
Drop-in visitors can pay $40 to access the lounge and the workstations, while a $300 monthly membership gets you unlimited access to any available seat in the lounge or a workstation. Everyone who uses the incubator gets access to printing and to private booths for phone calls, as well as office hours with In3 mentors.
For a $400 monthly fee, members get their own dedicated personal desk space, mail handling services, a personal locker and the ability to host private events at the space. For $600 a month you can get a private office space for one person or up to four people, along with all of the other items mentioned.
http://www.bizjournals.com/washington/news/2017/03/02/sneak-peek-the-inclusive-innovation-incubator-at.html