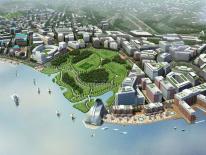 Washington Business Journal by Michael Neibauer
First, it was offered as a future home for D.C. United, then, as the future home of the FBI. It will become neither, but deciding what to do with Poplar Point is back on the District's agenda.
The 130 acres of parkland on the Anacostia waterfront, still largely under the jurisdiction of the National Park Service, remain a target for redevelopment. Little has been said or done of that process, but it does appear to be advancing — ever so slowly.
Poplar Point is to be transferred to the District under a 2006 federal law, but not before the land is remediated of its many contaminants and the National Park Service and U.S. Park Police facilities are relocated from it, at D.C.'s expense.
According to the Office of the Deputy Mayor for Planning and Economic Development, in its written responses to a D.C. Council panel's oversight questions, the city is working with the D.C. Department of Energy and the Environment, the agency's environmental consultant and the park service to finalize a work plan and begin a remediation investigation, all in 2017. DMPED also expects this year to restart a small area plan review and the Environmental Impact Statement process — an effort that first kicked off about a decade ago.
D.C. has set aside roughly $26 million in capital dollars for Poplar Point, per DMPED, of which only $212,124 has been spent so far. AECOM Inc., an engineering firm, was awarded a $414,375 Poplar Point-related contract in 2016.
The city considers Poplar Point one of its 10 biggest projects, a list that also includes McMillan, St. Elizabeths East, Walter Reed, Northwest One and Hill East.
Nine years ago this month, then Mayor Adrian Fenty selected Clark Realty Capital LLC to develop Poplar Point into a $2.5 billion mixed-use waterfront community, including a new D.C. United stadium. But the economy crashed soon after, and the deal crumbled.
Then, in 2013, D.C. bid to relocate the FBI from the J. Edgar Hoover building downtown to a nine-story, 1.5 million-square-foot headquarters on 10 acres at Poplar Point. That offer never had a chance. The FBI and the General Services Administration selected three potential suburban locations instead, in a selection process that has yet to be decided.
Five entities have owned pieces of Poplar Point over the last 100 years: the District, the Park Service, the Architect of the Capitol, the Navy and Army Corps of Engineers. Their work has left the grounds badly contaminated with metals, pesticides, semivolatile organic compounds, petroleum hydrocarbons and PCBs in the soil, sediment and groundwater.
In 2013, a then-DMPED official told the D.C. Council that it would cost upward of $60 million just to relocate the park police and NPS facilities from Poplar Point, and millions more to remediate the land. Even if it is developed down the road, the District has committed to retain at least half of Poplar Point as parkland.
On the private side of Poplar Point, things are moving. Redbrick LMD acquired a 4.5-acre undeveloped site at Howard Road SE and South Capitol Street in 2013. It recently revealed plans to develop about 700 residential units, 1.6 million square feet of office and 45,300 square feet of retail. It is in the running as the future headquarters of the Department of Labor.
http://www.bizjournals.com/washington/news/2017/03/20/poplar-point-back-on-d-c-s-agenda-but-theres-still.html