The new program helps Mayor Bowser deliver on her promise to put homeownership within reach for DC families. The special mortgage program offers a substantial discount on the interest rate for various mortgage loans; borrowers do not have to be first-time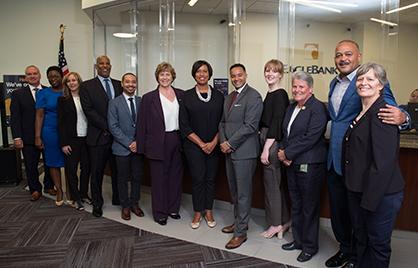 (Washington, DC) – Mayor Muriel Bowser and EagleBank President and Chief Executive Officer Susan G. Riel announced an exclusive mortgage loan option program designed to help DC Government employees achieve homeownership in the District of Columbia. The announcement comes ahead of the 11th Annual DC Housing Expo and Home Show on Saturday, June 15, co-hosted by the Department of Housing and Community Development and Greater Washington Urban League, an all-day event focused on sharing housing resources to ensure that residents of all backgrounds can afford to live and thrive in the city.
"This new program will help us give DC Government employees the fair shot they work so hard to give others," said Mayor Bowser. "With tools like this, we can recruit and retain the best and brightest at DC government, increase access to safe and stable housing, and put homeownership in reach for families and workers across the income spectrum."
The special mortgage program will offer a substantial discount on the interest rate for various mortgage loans, including conventional, Federal Housing Administration (FHA), Home Equity lines of Credit, and FHA rehabs. Borrowers do not have to be first-time home buyers, and all DC Government Employees are eligible, with no tenure requirement. Other features of the program include the Bank @ Work deposit program and home buying education seminars.
"I am delighted that EagleBank, with its leadership record of supporting homeownership, is able to join efforts with the DC Government in providing this exclusive mortgage loan option program for DC Government employees," said EagleBank President & CEO Susan G. Riel. "We are very proud of our record as an active mortgage lender in the Washington Metro area, and know that homeownership is a core value that is critical to the success of any community."
The program will serve as a complement to existing homeownership assistance programs such as the Employer-Assisted Housing Program (EAHP) and Home Purchase Assistance Program (HPAP), which both offer a deferred, 0% interest loan to help with down payments, as well as closing cost assistance, to low- and moderate income first-time homebuyers. EHAP is only available to eligible District government employees. Mayor Bowser increased home purchase assistance under EHAP from $10,000 to $20,000 and first responders—such as Metropolitan Police Department, DC Fire and Emergency Medical Services Department, and Department of Corrections—can get assistance totaling up to $45,000. Mayor Bowser also enhanced HPAP by increasing the maximum amount of down payment assistance from $50,000 to $80,000 and increasing closing cost assistance to $4,000.