Plaza West will go up at 307 K St. NW, in Mount Vernon Triangle.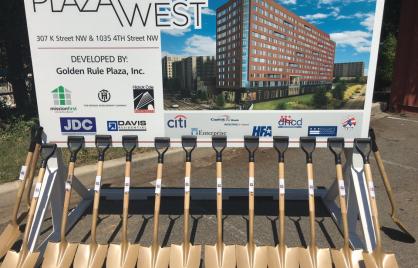 Within a couple years, District leaders say that Mount Vernon Triangle will be home to a 223-unit affordable-housing development for residents who formerly experienced homelessness and families headed by grandparents.
Mayor Muriel Bowser, Ward 6 Councilmember Charles Allen, and leaders of Bible Way Church on Monday morning broke ground on Plaza West at 307 K St. NW, which will contain 50 units devoted to "grandfamilies" as well as 11 units for people receiving services from the D.C. Department of Behavioral Health. The development will feature a staggered affordability structure: DBH clients must be making less than 30 percent of area median income, and grandfamilies must be making between 30 and 50 percent of it; the remaining 162 units will be available to residents making below 60 percent of AMI. (Last fiscal year, the District's AMI was roughly $110,000.) Speakers said the "grandfamily" model for the site is based on a facility seen in New York.
The development is years in the making, with the land transferred to an nonprofit-developer affiliate of Bible Way in 2005. The building will feature support services for families on top of 9,500 square feet of outdoor space.
"This is a neighborhood that is going through a lot of change," Allen said. "If we want to be the type of city we want to be proud of, it takes an active intentionality...This is the type of housing that helps us deliver on and grow the type of city we all support."
The development was in part made possible by land-disposition legislation the D.C. Council passed in 2015 and a mix of financing from public and private sources. Those include the purchase by an investing arm of Citibank of $44 million in tax-exempt bonds from the D.C. Housing Finance Agency, which also underwrote $32 million in equity through low-income housing tax credits. Altogether, the project has been pegged at approximately $90 million in building costs.
Bowser lauded Bible Way's committment to affordable housing while also boasting some of her administration's recent accomplishments: getting the minimum wage raised to $15 an hour by 2020, extending the Marion S. Barry Summer Youth Employment Program to people ages 22 through 24, and preparing for the modernization of D.C.'s public schools during the next several years. The mayor cited the $100 million per year the administration has invested in District's Housing Production Trust Fund—one of its primary vehicles of creating affordable housing, which now has consistent financing—but acknowledged it's only "a drop in the bucket" when considering the overall need for affordable housing.