Annual Month-Long Initiative to Highlight People and Companies Shaping Innovation in the District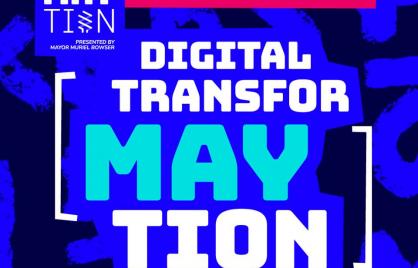 FOR IMMEDIATE RELEASE:
May 2, 2018
CONTACT:
Kate Hartig (DMPED) – (202) 727-9921; [email protected]
(WASHINGTON, DC) – Today, May 2, at 6:00 p.m., Deputy Mayor for Planning and Economic Development Brian Kenner will kick off "InnoMAYtion," a month-long initiative to showcase the people, companies and programs that create jobs, engage DC residents, and position Washington, DC as a global model for innovation.
Tonight at the 2018 kick-off event, "Digital TransforMAYtion," Administration officials will lead a conversation with national and local technology experts on civic innovation and how women are shaping the future of tech. This Saturday, DMPED, the Office of the Chief Technology Officer and the Department of For-Hire Vehicles will host the InnoMAYtion Hackathon where participants will collaborate on projects that focus on the advancement of women in tech, transportation and how data can improve resident engagement.
Events throughout the month will focus on key priorities from the Bowser Administration such as education, technology, small businesses, and the creative economy. For more events and information, visit innoMAYtion.org.
WHO:
Brian Kenner, Deputy Mayor for Planning and Economic Development
Julie Kanzler, DC OCTO, Program Manager, Data APIs and Systems
Michelle Beaman Chang, Founder & CEO IMBY
David Eaves, Professor at Harvard Kennedy School, former Presidential Innovation Fellow in Obama Administration
Amen Ra Mashariki, Esri, formerly of NYC Chief Analytics Officer
Rick Chandler, Commissioner, New York City Department of Buildings
WHEN:
Wednesday, May 2, at 6:00 pm
WHERE:
Verizon Technology & Policy Center
1300 I St. NW, Suite 500 East
RSVP is required to enter the building: https://dcinnomay18.eventbrite.com
Press interested in attending the event are asked to RSVP to [email protected].