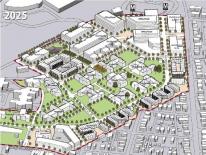 Washington Business Journal by Katie Arcieri
D.C. Mayor Muriel Bowser is proposing a healthy tax break to lure companies to the St. Elizabeths East campus.
Bowser's fiscal year 2019 budget includes a 10-year tax abatement, called the "St. Elizabeths Job Creation Incentive Act," for businesses that lease a minimum of 35,000 square feet at St. E's, the initial redevelopment of whichwill include a 217,000-square-foot office-over-retail building to be developed by Redbrick LMD in addition to housing and the St. E's arena.
The planned office building has already generated interest from companies in the tech and homeland security space, said Andrew Trueblood, chief of staff in the Office of the Deputy Mayor for Planning and Economic Development. St. E's East sits across Martin Luther King. Jr. Ave. SE from St. Elizabeths West, home to the consolidate U.S. Department of Homeland Security headquarters, and across Alabama Avenue from the Congress Heights Metro station.
If approved by the D.C. Council, the incentive could save a prospective tenant millions of dollars, depending on the size of their lease. But the Office of the Chief Financial Officer has not analyzed a potential cost of the provision because eligibilty for the abatement will not begin until tax year 2024.
The commercial building will include 175,000 square feet of office, with ground-level retail taking up the remainder of the space. Construction on that building could begin in 2021 and end in 2023, depending on tenant interest.
"We've had discussions with a number of firms that are interested," Trueblood said. "We've talked to firms that might take up the whole space. That would be a huge win, but we realize that that may or may not happen. If it's a few firms that take up that space, that is still a success. This is really giving the mayor the flexibility to size the abatement based on the tenant."
Trueblood noted that the St. Elizabeths area is "not a mature office market."
"Businesses will be taking various risks so we are trying to help address that through some of the financials," he said.
This isn't the first time D.C. officials have tried to lure a tech firm, or another major tenant, to St. E's. More than six years ago, Microsoft eyed the D.C.-owned East campus for an "innovation center" that would have served as an anchor for the site. Microsoft innovation centers focus on research, technology and software solutions in coordination with government, academic and industry partners. The Microsoft Innovation Center was expected to occupy 10,000 to 12,000 square feet.
But Microsoft is out, D.C. officials say.
"The previous administration had talks about it, but by the time we came on in 2015, those talks were dead," said Deputy Mayor Brian Kenner. "If Microsoft planned to make an investment, we obviously would have been open to that. It's just when we walked in in 2015, there was no Microsoft Innovation Center idea or concept."
https://www.bizjournals.com/washington/news/2018/03/30/d-c-seeks-to-lure-office-tenants-to-st-elizabeths.html