Wednesday, February 7, 2018
Washington Business Journal by Katie Arcieri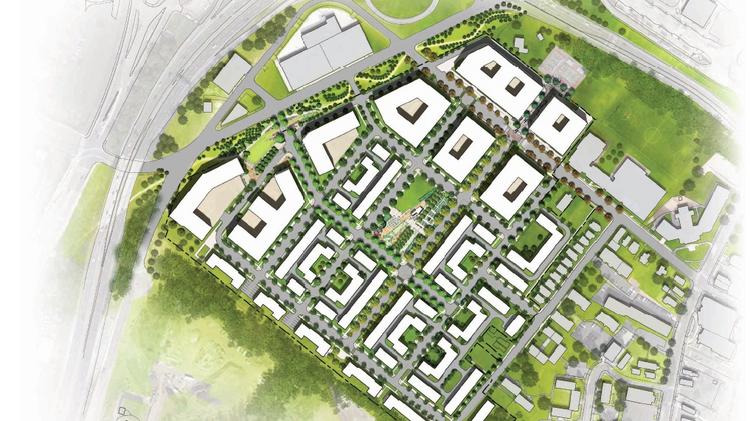 Demolition will begin this spring to make way for the first phase of the $400 million redevelopment of Barry Farm, with plans to transform the 444-unit public housing complex in Southeast D.C. into a mixed-income community with rentals and townhomes within walking distance of the Anacostia Metro station and other city amenities.
The multiphase project, to be constructed by Baltimore-based A&R Development and the Preservation of Affordable Housing in partnership with the D.C. Housing Authority, is expected to include 1,400 mixed-income homes and about 50,000 square feet of retail space at buildout, with the first units available in 2020.
Angie Rodgers, director of D.C.'s New Communities Initiative, told me that the office of the Deputy Mayor for Planning and Economic Development has allocated $8.4 million toward demolition work at Barry Farm in Ward 8. The request to reprogram $8.4 million within DMPED's budget is currently before the D.C. Council, and will be deemed approved on Feb. 13 unless the council takes action to stop it.
NCI anticipates another $4.2 million in fiscal 2019 for total demolition cost of $12.6 million. Rodgers said demolition and infrastructure work will take at least a year before any vertical development can begin. The demolition work is expected to begin along both sides of Sumner Road SE, then flow toward Eaton Road and end at Stevens Road.
She said the redevelopment of Barry Farm is long overdue.
"It's time," Rodgers said. "We want to get to vertical development as quickly as we can so we can get those units back up and get those residents back onto the property ... We are looking at the first units starting to come back in 2020. Most of the replacement units are going to be in the first phase."
Though D.C. officials are pushing ahead, the redevelopment is a tension point between city officials who want to revitalize the community and residents who want to preserve their homes and fear displacement from the first African-American homeownership community in D.C. for freed slaves. Last year, Barry Farm residents filed a lawsuit against the D.C. Housing Authority and its private development partners claiming discrimination and "deplorable" conditions at the Ward 8 housing complex. In December, Barry Farm residents filed a motion for a preliminary injunction, which is still pending.
The DCHA, which filed a motion to dismiss, declined to comment on the lawsuit. Joe Edmondson, a partner at Foley & Lardner who is representing the plaintiffs, declined to comment. Empower D.C., an advocacy group that filed the lawsuit on behalf of the resident, could not immediately be reached. A&R referred questions to the Preservation of Affordable Housing, which did not return my phone calls seeking comment.
D.C. officials received approval in January 2017 from the U.S. Department of Housing and Urban Development to begin the resident relocation process after demonstrating that the Barry Farm community was "essentially obsolete," Rodgers said. Barry Farm is one of four public housing communities that NCI is working to redevelop, including Lincoln Heights/Richardson Dwelling in Ward 7, Northwest One in Ward 6, and Park Morton in Ward 1.
She said NCI and the Housing Authority have already relocated 100 of Barry Farm's 444 public housing units offsite. The remaining 344 units will be redeveloped at Barry Farm.
Barry Farm's redevelopment will be financed largely through tax exempt bonds and low-income housing tax credits — the primary financing vehicles for affordable housing production nationally. It would take many more resources to rehab the existing properties than it would to demolish them, Rodgers said, adding that Barry Farm "was intended to be temporary structures and people ended up living there for decades. There's a lot of infrastructure problems."
https://www.bizjournals.com/washington/news/2018/02/07/d-c-lines-up-millions-to-demolish-barry-farm.html?ana=e_wash_brk&s=newsletter&ed=2018-02-07&u=iwiEv47oBIqiyqQDXcPElcFKjr4&t=1518025165&j=79873351