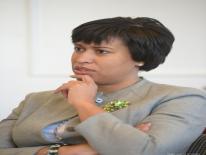 Washington Business Journal by Karen Goff

D.C. must embrace growth, inclusiveness, innovation and resilience as it grows its economy over the next five years.
That's the theme of Mayor Muriel Bowser's five-year D.C. Economic Strategy report, released on Tuesday.
While private sector growth has contributed to a strengthening economy since 2012, when last report was released by then-Mayor Vincent Gray, there "is still much more we must do to reach our full potential," Bowser said in the 105-page document.
Two of the goals to get there: to grow D.C.'s private sector economy by 20 percent to $100 billion by the end of 2021, and foster economic prosperity by creating more jobs and lowering unemployment levels below 10 percent in all segments by the same deadline, the report says.
To reach the first one, the District's Gross Domestic Product will have to grow at about 3.4 percent annually. That number has been reached before, but growth has slowed in the last six months so consistency is the challenge, the report says. For unemployment, some of D.C.'s highest rates are among African-American residents (13.2 percent), high school graduates without a bachelor's degree (15.6 percent) and residents of Wards 7 and 8 (as high as 13.3 percent).
The lack of higher education is one of the biggest threats to D.C.'s workforce, the report said. About 60,000 residents still lack a high school credential, and a Georgetown study projects that in four years 76 percent of all jobs in D.C. will require some postsecondary education, whether academic or technical.
The report outlines a Framework for Action, with five key areas that include 43 actions to be implemented:
Business environment

: Create a customer-centric business and regulatory environment

Funding

: Improve access to capital and funding opportunities

Local identity and promotion

: Support the local economy by promoting and preserving D.C.'s unique identity

Talent

: Retain talent and empower residents to thrive through industry-advised career pathways and well-connected pipelines

Space, housing and other supports

: Ensure companies have space to grow, residents have affordable housing, and other supporting drivers of inclusive economic growth are strong
The initiatives themselves are wide-ranging. There are plans at the most basic level, such as continuing to provide job opportunities in the Summer Youth Employment Program to training D.C. residents for D.C. government jobs though the Learn Earn Advance and Prosper program. There are highly ambitious (and somewhat esoteric) plans too, such as "to ma ke D.C. the global center of mobility technology and policy," and "expand trade with and investment in the Middle East."
" These initiatives are not a comprehensive list of everything D.C. can, should, or will do to build a healthy economy," Bowser said in the report. "They are a collection of high-impact and ambitious-yet-feasible priorities focused on the economic climate that will receive focused attention, effort and resources."
Gray's 2012 plan proposed to streamline bureaucracy, target new office tenants, build medical and university hubs, lure new investors and double the number of money-spending Chinese tourists. It outlined 50 initiatives that would help D.C. generate $1 billion in new tax revenue and create 100,000 new jobs. Some of the ideas happened; some didn't, but it was said in 2012 that some may take far more than five years to realize.
The report was based on conversations with 450 stakeholders in the second half of 2016. The effort was led by the Office of the Deputy Mayor for Planning and Economic Development, the Washington, D.C. Economic Partnership, the Economic Strategy Advisory Committee, representatives from more than 20 D.C. government agencies and D.C.'s major universities and hospitals.
http://www.bizjournals.com/washington/news/2017/03/07/d-c-economic-strategy-report-stresses-private.html?ana=e_wash_brk&s=newsletter&ed=2017-03-07&u=iwiEv47oBIqiyqQDXcPElcFKjr4&t=1488906098&j=77581601