Washington is known for its lawyers and lobbyists, but that could be changing.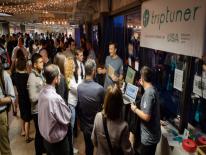 WAMU by Sasha-Ann Simons
The recent announcement by tech giant Yelp that it will begin construction on a 500-person office in downtown D.C. attracted more attention to Washington's innovation economy. Although the region is a long way from being Silicon Valley, industry insiders say the area is on its way to becoming a technology hub.
"It's everywhere. It's along 6th Street, 7th Street, close to the Convention Center; it's in Shaw," said Brian Kenner, D.C.'s Deputy Mayor for Planning and Economic Development, speaking about tech. "It's located increasingly in areas that you may not think it's located in."
Studies rank D.C. among the top tech cities in the country.
Kenner says that the city offers a number of unique incentives to attract tech companies, such as the Qualified High Technology Companies incentive:
"It provides incentive opportunities for hiring D.C. residents, and it provides a little bit in terms of reduction in corporate income tax," said Kenner.
The incentives are not a fail-safe recipe for success, however. Many Washingtonians can still recall the decline of Living Social. A large number of tax breaks and incentives weren't enough to save the company, still fairly new to the District, from having to lay off more than 1,600 workers in 2014.
Potential in the suburbs
Some companies have managed to enjoy the benefits of the Washington area and avoid the city's high capital gains taxes by moving to the suburbs. Knowland, a provider of meeting and group data for the hospitality industry, moved from its office on H Street Northwest to Arlington's Rosslyn area.
1776, an incubator for nearly 600 D.C.-area tech startups, now has an office in Crystal City in addition to its 15th Street Northwest location. Chief Strategy Officer Penny Lee said the expansion is in large part because other companies helped pave the way for a suburban move.
"You have to remember, AOL started here and was in the Northern Virginia suburbs, and really spawned a lot of entrepreneurs," Lee said.
Additionally, the tech boom in Washington has created less physical space for newer startups to grow, further prompting the shift out of the city.
D.C. Deputy Mayor Kenner said that he understands the appeal of suburban locations, and that the addition of new companies anywhere in the region benefits everyone. "There are some companies that just aren't interested in D.C., because they need a lot of land," Kenner said. "I totally respect that, and would want to work with my colleagues in the region to help keep those companies here."
Charlene Li, principle analyst at Altimeter in San Francisco, said that she sees the promise in the District's tech scene.
"It's on the East Coast, where a lot of the business is," said Li. "It's connected to Europe, it's very international, and the cost of living and the standard of living are still really good."
Nevertheless, Li thinks it will be a while before the District can shed its national reputation of being just a government town.
"It is not the place where if you're a budding technology entrepreneur you go, 'I've got to be in D.C.' It's just not something you hear," she said.