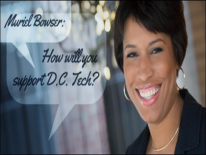 The technology sector will play a central role in diversifying the District's economy. The region contains more STEM-related jobs (27.1 percent) than most metro areas, according to a 2013 Brookings study. The percentage is slightly less than San Jose (home to Apple and Google) which contains 33.2 percent of STEM-related jobs. Washington, DC's growing and dynamic technology sector employs over 29,000 individuals, dispersed through startups and large companies.
The city is home to tech companies such as LivingSocial and Blackboard, but it also has a vibrant ecosystem of small, independent startups making their way with the help of local co-working spaces, such as WeWork and Cove, and incubators, 1776, which has gained an international reputation for its work. Having such spaces available in the District has helped grow a technology eco-system, attracting and retaining smart, entrepreneurial minds in the District. Ninety-two percent of the District's technology jobs are in the information technology subsector. The other eight percent of jobs are broken down between software publishers, Internet publishing and Web portals, and data processing and related services. The WMA employs 229,000 technology employees, 74 percent of who work in IT, 14 percent in biotech and life sciences, and 11 percent in telecommunications.

Pathways to Inclusion - DC Tech Report
The District's first-ever report on the current state of inclusion in our tech economy, "Pathways to Inclusion", was released.
The 'Pathways to Inclusion Report' was cultivated from a commitment by Mayor Muriel Bowser and her Innovation Technology Inclusion Council (ITIC) to expand of the District's innovation economy in a way that will serve as a national model for inclusion and diversity. This report is the first of its kind for the District, providing a roadmap to create an inclusive ecosystem where the tech and innovation economy can grow.
Specific goals have been set to achieve our vision of becoming the nation's premier hub for technology inclusion; creating 5000 new tech jobs for underrepresented workers, creating 500 new tech businesses founded by underrepresented entrepreneurs and fostering the most inclusive culture among tech ecosystems on the East Coast. The set of recommendations outlined in this report was designed to provide direction for the District and its partners to carry out specific goals and ultimately its vision of building a national model for tech inclusion and diversity. All stakeholders in the city, including government, private industry, universities, and non-profit organizations have a role to play in creating and sustaining an inclusive innovation ecosystem."

ConnecTech
Connectech is designed to help small, District-based technology firms compete for federal commercialization opportunities through the Small Business Innovation and Research (SBIR) and Small Business Technology Transfer (STTR) programs.
Technology Incentives
Qualified High Technology Companies (QHTC), a program administered through the Office of Tax & Revenue (OTR), offers numerous tax incentives to reduce the cost of doing business for high tech companies in the District. Some of the incentives offered include a five-year exemption from corporate income tax, up to $10,000 credits from every new employee, up to $7,500 per employee relocation credits, and an exemption from sales tax.
To see how you can become apart of our story, please contact us at:
Joycelyn James
Sector Analyst for Technology and Innovation