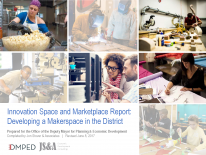 The Made in DC Program was established in July of 2016. A component of this legislation required the Deputy Mayor for Planning and Economic Development (DMPED) to submit a report to the Mayor and the Council on Opportunities for establishing a District-sponsored Innovation Space and Marketplace. DMPED issued a solicitation and retained local economic development consulting firm and DC Certified Business Enterprise, Jon Stover and Associates (JS&A) to produce the assessment.
The purpose of this project is to assess the opportunity for establishing an Innovation Space and Marketplace as a District-sponsored initiative to support the local maker community, particularly businesses registered in the Made in DC Program. This report evaluates opportunities –and recommends a strategy moving forward –to develop a centralized makerspace for members to work in and as well as a space display and sell products.
The District defines an Innovation Space and Marketplace as: "a studio space together with sales gallery space, space with high-end shared equipment, and classrooms that would be available to local makers on a low-cost membership basis."
This report is one of the first steps necessary to plan and develop the Innovation Space and Marketplace. The analysis described in this document is meant to help DMPED and other DC agencies understand and evaluate the opportunity at hand and make strategic decisions necessary to continue the process of developing a makerspace that will best meet the District's goals and stakeholder needs.