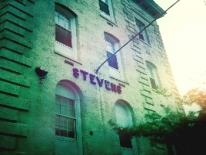 The Thaddeus Stevens Elementary School is located at 1050 21st Street, NW in Ward 2. The Property is improved with an approximately 40,000 square foot historic school building and a playground. The Stevens School building was built in 1868 as one of the District's first publicly funded schools for African-American children. The school was named for Thaddeus Stevens (1792-1868), a Pennsylvania congressman and prominent abolitionist who championed "free schools" for all. It was the oldest surviving elementary school in the District of Columbia and served as a school until it was closed in 2008.
The Thaddeus Stevens School building was added to the DC Inventory of Historic Sites in 1972 and then designated a National Historic Landmark (by the National Parks Services) in 2001.
The building is currently vacant and slated for renovation and occupation by an educational user.
Current project information may be found here:

Surplus and Disposition